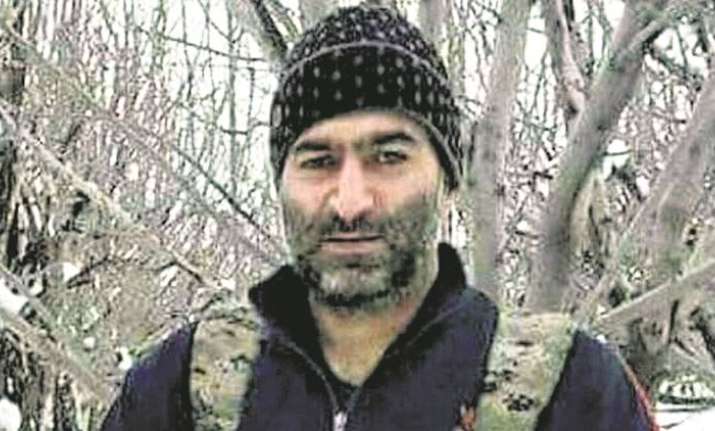 In a big blow to the Pakistan-sponsored Hizbul Mujahideen, its top operational commander for Kashmir Yasin Itoo alias Mehmood Ghaznavi was on Sunday killed in an encounter with security forces in Jammu and Kashmir's Shopian district. 
Itoo was among three militants that were neutralized by the security forces in a 16-hour gunfight that began in Awnira in Shopian. The encounter also claimed the lives of two Army men. 
Following a tip-off to the local police, a cordon was laid in Awnira village of Shopian last night by the Special Operations Group of the Jammu and Kashmir Police, Army and the CRPF. 
Militants fired at the approaching security personnel, wounding five Army personnel, two of whom later died. This prompted the security forces to wait till dawn while keeping a tight cordon around the area before launching a major strike.
Intermittent firing continued the whole night, and the operation began in full swing in the morning. All three terrorists holed up were killed. They were identified as Irfan, a tech-savvy militant involved in online propaganda for the militant outfit, and Umar, who was personal security man of Ghaznavi. 
Itoo, from Budgam district of central Kashmir, had a long association with Hizbul Mujahideen and was involved in keeping alive the prolonged unrest of 2016 following the killing of group's commander Burhan Wani in an encounter with security forces, besides recruiting several young men into the outfit, police said. 
He was identified by his family members who were brought to the scene of the encounter by police from their residence in Budgam.

 

Itoo, often called a 'vintage militant' as he joined Hizbul Mujahideen in 1996, had surrendered in 2007 and later released on parole in 2014. He joined the militant group again and was its self-styled chief operations commander. One Kevyt Konekivaan (KK) series rifle used by Itoo and two AK series rifles were recovered from the encounter scene. 
Security forces launched a cordon and search operation yesterday following information about the presence of militants in Awnira village of Zainapora area of the district. 
As the forces were conducting searches, the militants opened fire which was returned. 
Five soldiers were injured in the gunfight yesterday and had to be evacuated to 92 Base Hospital of the Army for treatment. Two among them succumbed to injuries last night. 
They were identified as Sepoy Ilayaraja P, a resident of Tamil Nadu, and Sepoy Gawai Sumedh Waman from Maharashtra.
Jailed former top militant Qasim Faktoo, undergoing a life sentence for murder of human rights activist H N Wanchoo, issued a statement from prison terming Yasin's killing as a huge loss to the "movement", says a Times of India report.