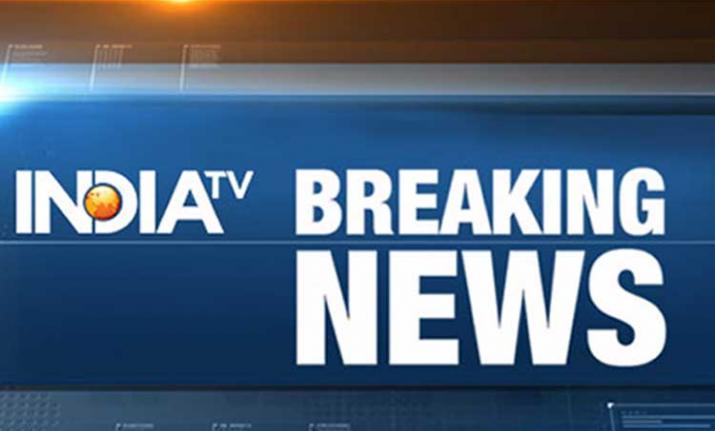 Twitter is buzzing with breaking news and news alerts from India and rest of the world. Here is the live coverage of all breaking alerts and latest updates from the micro-blogging site on one page:
Breaking News of July 2:
5:30 pm: Monday Talk | 'Outsiders' in party need to be purified from 'Ganga Jal': BJP MP Shyama Charan Gupta (Click here to read complete interview)  
5:00 pm: Law Commission to hold consultations with all major political parties on July 7 and 8 over feasibility of conducting simultaneous election of both Lok Sabha and state assembly (ANI)
4:58 pm: The incident is unfortunate. We have already begun investigation in the matter. Few accused have also been arrested & the state govt has decided to give Rs 5 lakh as compensation to victims' families: Maharashtra CM on 5 people lynched in Dhule on suspicion of being child-lifters
4:52 pm: I consider this absolutely wrong: Union Home Minister Rajnath Singh on recent trolling aimed at External Affairs Minister Sushma Swaraj (ANI)
4:44 pm: Punjab Cabinet decides to send a formal recommendation to the Centre over death penalty for drug peddlers and smugglers.
4:28 pm: Brihanmumbai Municipal Corporation seized 1507 kg plastic and collected Rs 1,96,5000 in fine since plastic ban was implemented in the state (ANI)
4:20 pm: A local court extends police remand of Mandsaur rape accused Irfan by 3 days. (ANI)
3:46 pm: CBI arrests Rakesh Kumar Garg, Chief Engineer (Naval Works), Military Engineer Services (MES), Naval Base, Kochi and 5 other accused in an alleged bribery case, Rs 1.21 Crore (approx) also recovered (ANI)
3:23 pm: I appeal to people to not take law into their own hands. Police has arrested 21 people so far. These kind of rumors are being spread through social media: Union Minister&Dhule MP Subhash Bhamre on lynching of 5 people on the suspicion of being child-lifters,in Maharashtra's Dhule
3:00 pm: Decided to recommend death penalty for drug peddling/smuggling. Recommendation being forwarded to Centre. Since drug peddling is destroying entire generations,it deserves exemplary punishment.I stand by my commitment for drug free Punjab: Capt Amarinder Singh, Punjab CM
02:46 pm: Afghanistan and India are victims of terrorism from the same sources and that's why they have to stand together with rest of the world to fight terrorism in order for the two of us to be freed from menace of terrorism attacking both nations: Afghan ambassador to India on Jalalabad attack (ANI)
02:00 pm: EU says US risks $294 bn global retaliation over auto tariffs (reports AFP)
01:52 pm: 40-year-old under-trial prisoner escapes from Delhi's Tis Hazari Court where he was brought for a hearing (ANI)
01:45 pm: One uniformed Naxal killed, INSAS rifle among other things recovered from him by security forces in Chhattisgarh's Bijapur (ANI)
12:54 pm: Police register a case of rape and molestation against four priests in Kerala church sex scandal. The victim, in her statement to police, confirms she was raped and blackmailed (ANI)
12:52 pm: It appears that the family was involved in occult practices to attain salvation and probably there was a 'tantric' behind this. The eldest member of the family might have been influenced and so all the others followed: Psychiatrist, on 11 bodies found in Delhi's Burari (ANI) 
12:50 pm: Supreme Court extends deadline for publication of final draft of NRC in Assam till July 30 (PTI)
12:41 pm: NGT stays tree felling till July 19 for redevelopment project of colonies in South Delhi; also issues notice to Centre, Central Pollution Control Board and others on the issue (PTI)
12:39 pm: Supreme Court seeks Uttar Pradesh government's response on a plea alleging that fake encounters have taken place in the state (PTI)
12:32 pm: DDCA Elections 2018: India TV Chairman and Editor-in-Chief Rajat Sharma elected as Delhi & District Cricket Association President
12:23 pm: Security forces launch search operation in Jammu and Kashmir's Nowshera following information of suspicious movement 
12:15 pm: 1st thing we did was to donate their eyes that could provide eyesight to 22 people, considering the family was religious and always wanted to help others. We gave approval letter yesterday: Friend of the family whose 11 members were found dead in Delhi's Burari yesterday (ANI) 
12:14 pm: External Affairs Minister Sushma Swaraj to meet relatives of the victims of the Jalalabad suicide blast in Delhi today evening (ANI)
12:12 pm: Supreme Court directs Centre to file affidavit indicating time-frame for appointment of Lokpal. Court also directs Centre to inform within 10 days, the details of steps to be taken for appointing Lokpal (PTI)
11:46 am: Supreme Court asks Vaishno Devi Shrine Board and Jammu and Kashmir government to file a reply on the status of the rehabilitation plan of horses and mules. Matter fixed for further hearing in August (ANI)
11:43 am: Postmortem of 11 bodies found hanging in a house in Delhi's Burari completed. Police sources reveal 'ligature hanging' as the reason behind death and that no signs of struggle were found. The family members had donated their eyes (ANI)
11:31 am: Congress leader Ahmed Patel moves Supreme Court seeking direction to Gujarat High Court to not proceed with a plea challenging his election to Rajya Sabha (PTI)
11:29 am: Supreme Court agrees to consider urgent listing of petitions challenging practices of polygamy and 'nikah halala' among Muslims. CJI allows Centre to file response to petitions challenging the two practices (PTI)
11:25 am: Supreme Court issues notice to Bihar govt in connection with a petition filed by Mohd Shahabuddin, convicted under the Arms Act by Patna High Court. He had moved the Apex Court challenging his conviction in the case (ANI)
11:24 am: Uttarakhand received heavy rainfall during the past 24 hours as predicted. Heavy to very heavy rains will lash parts of the state in next 24 hrs. We'll issue red alert. Commuters should only use 'pucca road': Dehradun Meteorological department (ANI)
10:41 am: Supreme Court upholds appointment of KV Chowdary as Central Vigilance Commissioner (CVC) in the Central Vigilance Commission (ANI)
10:30 am: Rishikesh-Gangotri route on Uttarakhand's NH-94 closed following landslides occurring near Kunjapuri Devi Temple, Rishikesh since last night; District Administration has deployed machines to clear the road (ANI)
10:27 am: Interpol also issues Red Corner Notice (RCN) against Nirav Modi's brother Nishal Modi and his company's executive Subhash Parab in connection with PNB scam case (ANI)
10:25 am: At least six students injured after a school bus overturns, falls into a gorge in Charthawal area of UP's Muzaffarnagar (ANI)
10:20 am: Thunderstorm accompanied with heavy rainfall very likely to occur during the next three hours at a few places in Agra, Bijnor, Badaun, Bareilly, Mainpuri, Kasganj, Farrukhabad, Etah, Shahjahanpur and adjoining areas of UP (ANI)
10:19 am: Handwriting on the notes in the dairy being investigated. Why was it written and from where did the information come is also being probed: Crime branch sources on 11 bodies  found in a house in Delhi's Burari (ANI)
10:17 am: Family of the man whom one of the deceased was due to marry will also be interrogated. Call Data Records of the family members and search history on the internet are being scrutinized: Crime branch sources on 11 bodies  found in a house in Delhi's Burari (ANI)
10:16 am: According to CCTV footage, a delivery man came to the house to deliver food at 10:40 pm. No one came inside or went outside the house, before the local man who found the bodies in the morning: Crime branch sources on 11 bodies in a house in Delhi's Burari (ANI)
10:12 am: Official quick count in Mexico presidential election says leftist Lopez Obrador won over 50 percent of votes (reports The Associated Press)
09:57 am: Interpol issues Red Corner Notice (RCN) against Nirav Modi in connection with PNB scam case (ANI)
09:48 am: Five people lynched to death on suspicion of child theft in Rainpada village of Dhule district of Maharashtra yesterday; 23 arrested in the case (ANI)
09:44 am: Nashik Police rescue three people from a house in Azad Nagar in Maharashtra's Malegaon last night. All three were kept hostage on suspicion of child theft (ANI)
09:20 am: Sensex drops 61.28 points to open at 35,362.20; Nifty at 10695.50
08:54 am: Munsiari's Balati in Pithoragarh, Uttarakhand suffers cloudburst, dam of Seraghat Hydro Power Project damaged. No casualties have been reported (ANI)
08:52 am: It is pertinent to note the aircraft was NOT YET operating on Non-Schedule Operators Permit of UY Aviation Pvt Limited as it was still to be released to service. We're committed to extending all possible help to bereaved families: UY Aviation Pvt Ltd (ANI)
08:51 am: Extending full cooperation to law enforcement agencies involved in aftermath of crash. Aircraft Accident Investigation Bureau has started investigation in coordination with relevant agencies: UY Aviation Pvt Ltd (co the plane was sold to by UP govt), on June 28 Mumbai plane crash (ANI)
08:49 am: My heartfelt condolences to the families of the victims of the terror attack in Jalalabad city of Afghanistan. We are with them in this hour of tragedy. I am meeting their relatives today at 6 pm in JN Bhavan, tweets EAM Sushma Swaraj 
08:38 am: 5th batch of Amarnath Yatra including 4047 pilgrims leave from Jammu 
08:24 am: FIR registered under relevant sections of IPC after a parking attendant was stabbed to death by an unidentified person allegedly over parking issue in Mumbai's Byculla yesterday (ANI)
08:16 am: We strongly condemn the terror attacks in Afghanistan y'day. They're an attack on Afghanistan's multicultural fabric. My thoughts are with the bereaved families. I pray that the injured recover soon. India stands ready to assist Afghanistan govt in this sad hour, tweets PM Modi Read More
08:11 am: RTI activist and his friend shot dead in Bihar's Jamui last night (ANI)
07:07 am: 
#NewsAlert | Delhi Sikh Gurdwara Management Committee releases names of 11 Sikhs, who died in a suicide bombing in #Jalalabad of eastern Nangarhar province in #Afghanistan yesterday pic.twitter.com/L57199mXEb

— India TV (@indiatvnews) July 2, 2018
06:51 am: Mexico peso extends gains after Mexico ruling party concedes lost election, says Lopez Obrador will form next government (reports Reuters)
06:19 am: Claudia Sheinbaum has become the first woman to be elected mayor of Mexico City (reports AFP)
06:15 am: Leader of Angela Merkel's partner party to resign as interior minister after conflict with chancellor on migration policy (reports The Associated Press)
06:14 am: Three killed after being hit by a car in Gujarat's Surat; driver absconding (ANI)
06:11 am: Residents of Delhi's Sadarjung area hold march to save trees (PTI)