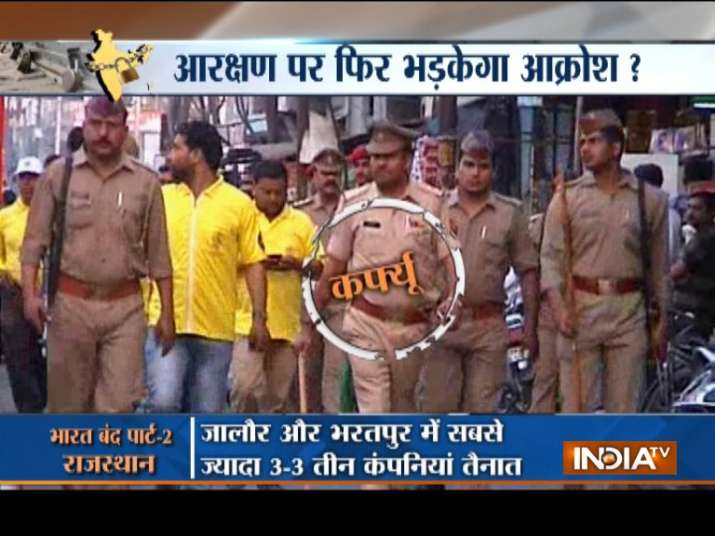 Days after Dalit groups held a nationwide protest against the alleged dilution of the SC/ST (Prevention of Atrocities) Act by the Supreme Court, a Bharat Bandh has been called against caste-based reservation in education and jobs. While calls for the bandh are being circulated on social media, no group has come forward so far to claim responsibility for it. 
The Ministry of Home Affairs has also issued an advisory to take necessary precautionary measures in view of the calls on social media for Bharat Bandh.
In order to avoid any untoward incident, security has been tightened in various states including Uttar Pradesh, Rajasthan, and Bhopal. The ministry has asked all the state governments to be extra vigilant to avoid any violence and loss of life and property.
As it happened: 
No impact of #BharatBandh call seen as yet in Meerut. MHA had issued an advisory that some groups would be protesting against caste-based reservations in jobs and education. pic.twitter.com/E2ovRWjrDd

— ANI UP (@ANINewsUP) April 10, 2018
05:42 pm: 127 people arrested in Bihar in connection with protests over dilution of SC/ST Act. 
01:30 pm: No report of any untoward incident from anywhere in Uttar pradesh till around noon during the ongoing 'Bharat Bandh.'
01:06 pm: In Patna, Begusarai, Lakhisarai, Muzafffarpur, Bhojpur, Sheikhpura and Darbhanga districts, hundreds of men blocked roads, halted trains and forcibly closed markets.
11:52 am: Over a dozen people have been injured in a violent clash in Bihar. Supporters, mostly upper castes youths, blocked roads and forcibly enforced the nationwide shutdown in Ara town, Bhojpur district.
11:39 am: Internet services suspended in Saharanpur till further notice. 
10:58 am: 
#WATCH: Clash between two groups in Bihar's Arrah during protests against caste-based reservations, gunshots heard. pic.twitter.com/s0RUA4KP2B

— ANI (@ANI) April 10, 2018
10:13 am: Section 144 imposed in Uttar Pradesh's Ghaziabad.
10:10 am: Internet services have been suspended in Gwalior, Bhind and Morena.
09:30 am: 
Protests against caste-based reservations: Curfew imposed in Bhind and Morena. (Visuals from Morena) #MadhyaPradesh pic.twitter.com/Tg4Kink7Wu

— ANI (@ANI) April 10, 2018
09:15 am:
Protests against caste-based reservations in jobs and education: Visuals from Bihar's Arrah where protesters have stopped a train pic.twitter.com/N6wePxP0tQ

— ANI (@ANI) April 10, 2018
08:36 am: The messages about an all-India strike were widely shared on WhatsApp with no group accepting responsibility for the bandh call. 
08:22 am: Acting upon Ministry of Home Affairs advisory, many states took precautionary measures and also imposed section-144 in violence-prone areas. Internet services are also likely to take a hit in certain regions. 
08:17 am: Section 144 imposed in Bharatpur till April 15 after protests over SC/ST protection act. Internet services will be suspended at 9 am, today. 
08:12 am: In Bhopal, around 6000 police personnel will be deployed in order to ward off any violence or untoward incidents.
08:01 am: Security has also been tightened in Rajasthan's Alwar and police are carrying out patrols in several areas.
07:52 am: Mobile internet service has also been blocked for 24 hours in Jaipur from Monday night as a precautionary measure, the official said. 
07:48 am: Meanwhile, schools in some parts are also expected to remain closed in view of security concerns.
07:33 am: In Firozabad, classes from Std 1 to Std 9 in all schools have been called off for Tuesday. Hapur has already suspended internet services from 6 pm onwards on Monday, effective till 6 pm on Tuesday. 
07:28 am: Section 144 has also been imposed in Nainital region in Uttarakhand. District administration has also put a complete ban on processions and dharnas on Tuesday, warning of strict action against law breakers.
07:19 am: The Union Home Ministry particularly asked the state governments to make the District Magistrates and the district police chiefs "personally responsible" for the law and order situations in their areas of jurisdiction, sources said on Monday.
07:12 am: "The MHA has advised the states to beef up security and make appropriate arrangements to prevent any untoward incident, including issue of prohibitory orders, if necessary," an official said. 
07:08 am: "States have been asked to intensify patrolling in all sensitive locations, so as to prevent any loss of life or damage to property," the advisory said.
Uttarakhand: Section 144 imposed in Nainital in the light of #BharatBandh
called tomorrow. District administration has put a complete ban on processions & 'dharna' tomorrow, says 'strict action will be taken against law breakers'.

— ANI (@ANI) April 9, 2018
06:45 am: While the April 2 Bharat Bandh was called by groups opposing the alleged dilution of SC/ST (prevention of of atrocities) Act by a Supreme Court order, today's protest is being reportedly called by people opposed to caste-based reservations in jobs and education. 
06:30 am: The April 2 Bharat Bandh led to violence and arson in many parts of the country and claimed several lives and left hundreds of civilians and policemen injured.