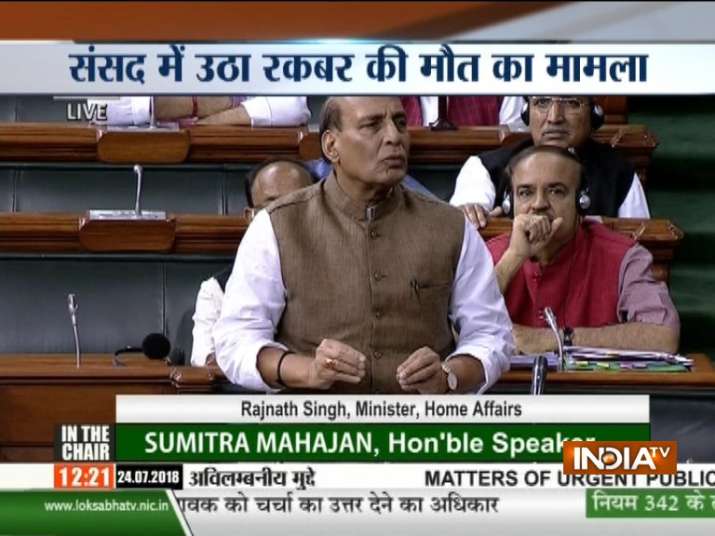 The Lok Sabha witnessed uproarious scenes on Tuesday as the Opposition led by the Congress raised the issue of a man being lynched in Rajasthan's Alwar on suspicion of being a cow smuggler. Responding to Leader of Opposition Mallikarjun Kharge's demand of a probe by a Supreme Court judge into the lynching case, Home Minister Rajnath Singh said that the government will enact a law, if necessary, to control such incidents.
"The government will enact a law, if necessary, to curb incidents of lynching. A high-level committee will give its recommendations, which will be studied by a group of ministers for further action," Rajnath Singh said.
"We are thoughtful about this. This didn't start only recently, the incidents of lynching have been going on since years. I have said this earlier too, the biggest mob lynching is, what happened in 1984," Rajnath Singh said while trying to corner the Congress over the 1984 anti-Sikh riots. 
Earlier, raising the issue in Lok Sabha, senior Congress leader MalliKarjun Kharge's remark that role of local leaders and police was questionable in the Alwar lynching case irked Speaker Sumitra Mahajan who warned Kharge against making accusations on the basis of newspaper reports.
Raising the issue through a zero hour mention in Rajya Sabha, Shanta Chhetri of the All India Trinamool Congress (TMC) cited media reports to say that "88 precious lives have been lost (in lynching incidents) since this government came to power." 
Noting that the Supreme Court had last week asked for a law banning mob lynching, she asked what the government has done to check such incidents.
The issue of Alwar lynching was raised in Parliament just hours after the post-mortem report of 28-year-old Rakbar Khan, who was allegedly beaten to death by cow vigilantes in Ramgarh area of the Rajasthan city last Saturday, revealed the  brutality of the attack.
Rakbar's two rib bones, his arm and a limb were found to be broken. Apart from this he had injuries all over his body.
WATCH: Govt will enact law to curb mob lynching, says Rajnath Singh in Lok Sabha