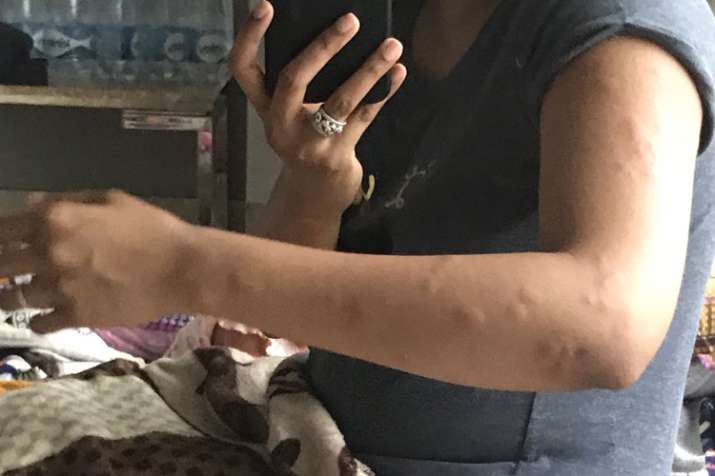 A woman passenger, who flew on Air India's Newark to Mumbai flight, was allegedly beaten by bedbugs during the journey. The passenger posted a photo on Twitter showing bedbug bites on her arm while claiming that she developed rashes all over her body as she travelled business from Newark in US to Mumbai with her children.
"Covered in painful bedbug bites all over my body thanks to business class of #AirIndia is this what you charge for?i only got moved to another seat in the morning when we were landing, it was disgusting! Mind you I was traveling with 3 kids," passenger said in on of her tweets.
The complaint has come just days after reports of a a baby was allegedly bitten by the bed bugs on the Newyork-Mumbai flight.
What an #airindia #businessclass would do to you? AI still has to get in touch with me inspite if my repeated attempts to get in touch with them. @airindiain @NewYorkTimes11 @cnni pic.twitter.com/tDHfmhX0Vx

— Saumya Shetty (@saumshetty) July 20, 2018
Last week, passengers of a flight from the US to Mumbai also allegedly had this unpleasant experience, and one of them tweeted about his ordeal.
"...just arrived from New York on Air India 144 business class with family. All our seats infested with bed bugs. Sir, have heard of bed bugs on trains but shocked to experience on our maharaja and that too business," Pravin Tonsekar tweeted and tagged the airline and the Civil Aviation Minister Suresh Prabhu.
In a second tweet, he said that his "wife and daughters had to suffer half of the journey sitting in economy seats with broken tables and inoperative TV".
"We are sorry to hear this, Mr Pravin. Sharing the details with our maintenance team for corrective measures in this regard," the airline tweeted in its reply.
In August last year, a rat was spotted on Air India's Delhi-San Francisco flight, one of the longest haul flights in the world, forcing the flight to depart after a nine hour delay.
Over 200 passengers were onboard. After taking the aircraft to the parking bay, it was fumigated and this exercise took about six hours.
(With inputs from PTI)