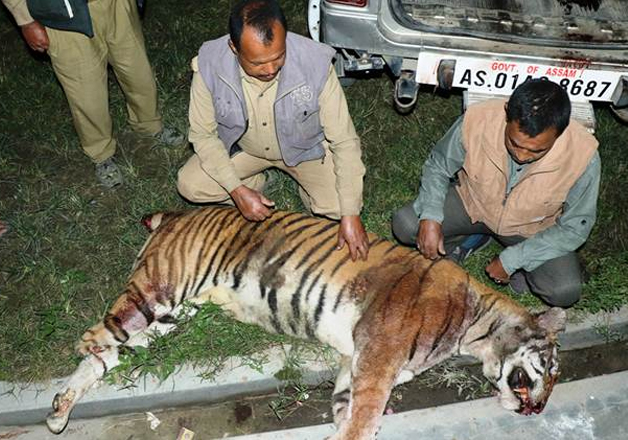 An adult male Royal Bengal tiger was hacked to death in a village near Jorhat in upper Assam on Thursday.
Officials said that this was done after the big cat attacked three persons during the day at Baghmora in Namdeouri area. 
Jorhat Divisional Forest Officer Sapon Saikia said that angered by the attack on three persons, people hacked to death the tiger suspected to have come out from Molai Kathoni forest. 
Eye witnesses said machetes, spears and knives were used in killing the tiger and its tail, skin and paws were taken away by the people. 
"The tiger had first reportedly attacked a person in the morning. A couple of hours later a second person was attacked. Around noon it picked up a third person by the neck and carried it away for quite a distance after which angry villagers armed with machetes and spears chased it and finally rounded it up in a paddy field where the animal was killed," Jorhat additional SP Gunindra Deka, who is holding charge as SP, said.
The three persons injured by the tiger were undergoing treatment at Jorhat Medical College Hospital. 
Environmental activist and forestry worker Padmashri Jadav 'Molai' Payeng single handedly created Molai Kathoni forest in Jorhat by planting trees there for a span of over 30 years.