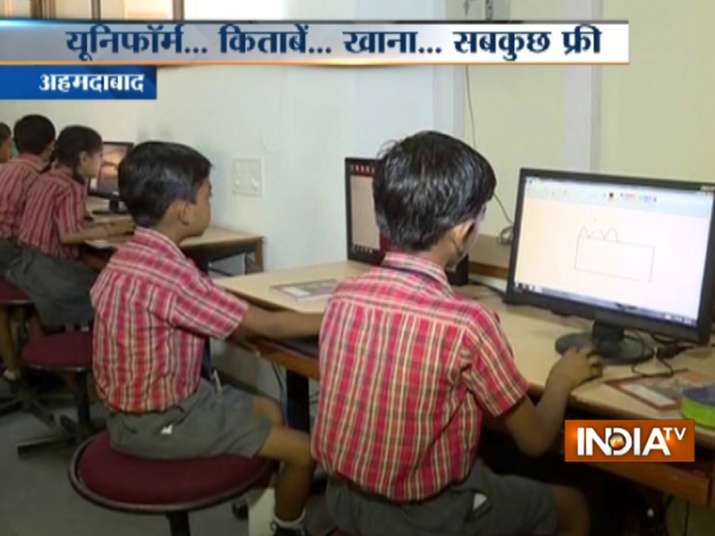 Education is a fundamental human right. But in our country, lakhs of children remain deprived of schooling opportunities and thus they fail to get recognition and contribute in writing the nation's growth story.
But this Ahmedabad-based school offers free education to poor kids in order to fulfil their dreams. Run by Dr Priti Adani, wife of industrialist Gautam Adani, 'Adani Vidya Mandir' has today become a platform for those kids who don't get opportunities to explore their talent.
The school admits children whose parents have an annual income less than Rs 1.50 lakh. Students here are provided free mentoring and counselling, transportation, uniform, textbooks and notebooks, breakfast, lunch and refreshments.
The school started functioning in 2008 with just three classes. Affiliated to the CBSE, presently the school is from 3rd to 12th standard. Today, there are more than 1100 students in this school.
"This school is different from others in many ways. Prayers are held here twice, first before the commencement of classes and secondly when you leave the school for the day. Learning by doing is the principle here. Never thought of getting admission into such a school, Aman Sayed, a student, told India TV.
"My father is no more. My mother is a working woman… she works at a private firm. We are also taught leadership techniques. We learn a lot many things here," Khushi, another student, said.
All classrooms are equipped with the latest digital technology… from digital boards to projectors, separate compute classes… students are trained here to compete at both national and international platforms. Students are also taught self-defence techniques. 
"When my husband passed away, many people told me to admit my kids to a Gujarati medium school. Everything in Gujarati medium schools are free, but somewhere I heard about Adani Vidya Mandir… everything here also is free. I always wanted my kids to study in a English medium school," a student's mother told India TV. 
Speaking about the philosophy of the school, Dr Priti said, "Our teachers are very committed. We have child centric approach… We believe in experiential learning theory. Character building is another thing which we teach them… making them responsible towards the society and the world is also crucial. It is an integral part of our curriculum."