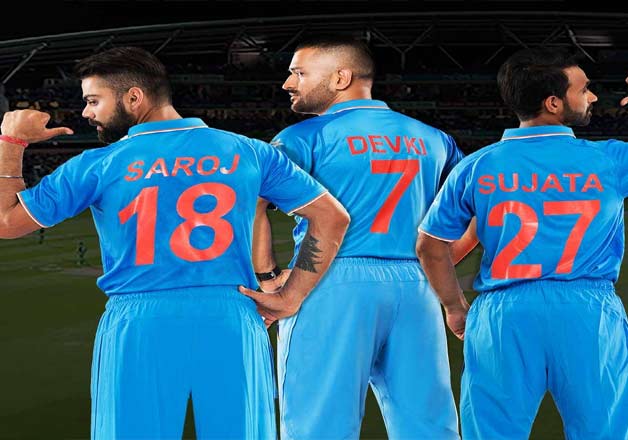 Mothers are what make each one of us who we are. To celebrate the bond we share with our mothers and the most beautiful relationship on Earth, Star India, sponsor of the Indian cricket team, has launched a TV campaign called 'Nayi Soch' in which the three top cricketers are proudly seen wearing their mothers' names on their jerseys rather than their own names or surnames.
This new ad featuring cricket stars MS Dhoni, Virat Kohli and Ajinkya Rahane has wonderfully promoted the importance of mothers in children's lives. 
MS Dhoni is seen wearing a jersey that has his mother's name 'Devki' printed on the back. While Virat Kohli has 'Saroj' (his mother's name) written on the back of his jersey and Ajinkya Rahane is carrying 'Sujata', name of his mother at the back of his jersey.
This new campaign is an eye opener and forces us to think about all the contributions and sacrifices our mothers have made for us. 
"We at Star India are very happy to partner with BCCI for an iconic brand initiative of "Nayi Soch". Star Plus has been a lighthouse brand for women. We have always put women first, told their stories, and are now set to take it to the next level - by challenging orthodoxy and stereotypes that come in the way of progress for women," Star India Managing director Sanjay Gupta told media.
Through this initiative, Star Plus decided to make advertisements that break the old convention of only 'Baap ka naam roshan karna'. 
Check out these 3 videos featuring MS Dhoni, Virat Kohli & Ajinkya Rahane that brilliantly give mothers the importance they deserve:
"Main itne saal se apne pita ka naam pehen raha tha, tab toh aapne nahi poocha - 'koi khaas wajah?'" - MS Dhoni
Main jitna Kohli hoon, utna Saroj bhi toh hu." - Virat Kohli
"Log kehte hai, baap ka naam roshan karo. Magar mere liye maa ka naam roshan karna bhi utna hi important hai." - Ajinkya Rahane