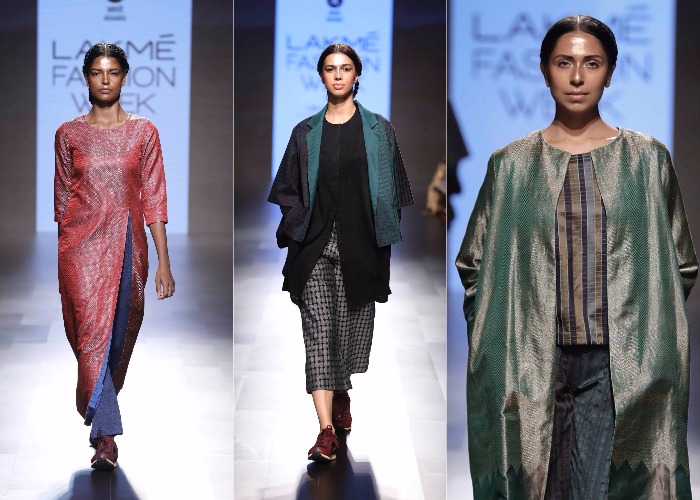 Designer Gaurav Jai Gupta's show, which was backed by the Australian Foreign Affairs and Trade departments made a strong fashion statement with an array of fabrics that had its unique overtones on clothes. Gaurav's show for label 'Akaaro' was an pioneering experience in textile and various weaves. The 'Irrelevance' collection made a point to present the audience with a strong fashionably inspired statement. It contained silk, ikat and brocades playing a glittering melody to enchant the viewers. 
The designers brought different colours to the winter fabric as well. It was unconventional reversible merino wool, with a mix of either of wool or khadi, or wool and silk or wool with zari or silk and cotton. There was also a metallic hint with Ikat, or satin in wool and metal to add oomph to the winter attire.
Also Read: Lakme Fashion Week Winter/Festive 2017 Day 2: The Day Stresses On Importance Of Sustainability In Fashion
 "This collection has taken quite a long time. It's always work in progress. I feel wool gives you interesting textures. The regional textile were integrated together to come in single place. We were looking at the strength and that's the core idea.
"Everything was handwoven. All fabrics were woven at our studio. I think we have huge baggage of handloom so we just wanted to change the narrative a bit. You really need to work on it and you have to push the idea. You have to think forward," the designer told IANS.
Keeping the ethnic dresser happy, the designer had merino wool, silk and metal saris in engineered checks or Ikat weaves with subtle detailing.Colours were deep and muted, with charcoal black being a favourite, along with glazed metal and then on to teal, blue and red for a little excitement on the shade card.
Also Read: Lakme Fashion Week: Four fresh faces featured for the runway
Staying away from prints and embellishments, Gupta had the fabric exclusively woven in Bengal, Gujarat, and Panipat in Haryana. Stripes, which are the designer's favourite, checks and circular motifs, were a constant factor on the ensembles.
The story revolved around multiple separates and saris that were engineered cleverly to present a smorgasbord of fashion.For women's wear, the designer offered a melange of silk jackets, cover-ups, capes, skirts, long line plackets, panelling, box pleats, drapes with intense construction and the optical illusion effect for lehenga-skirts, tops and pants.
The show opened with a handwoven merino wool silk zari jacket, brown stretch silk top and the illusion brocade trousers that are Gupta's leitmotif.Soon brocade blouses, textured trousers, paperback silk/merino wool pants, kingi cape, oversized big pocket jacket and jacquard culottes catered to the western dressers.
Inverted box pleats made a style statement, while Feschua silk merino wool jacket, black pin tucked dress and jacquard slip dress were part of the multi-piece collection.
The look created by Sandhya Shekar for the models had an interesting deep tonal makeup, while experimenting with colours that blended with the skin. There were hues of copper, silver and metal to keep the look very earthy as well as modern.
Talking about the make-up, the designer said: "We were looking at visual references. Eastern mountain area like Tibet, Ladakh, Mangolia kind of places." 
"There were Tribal African look as well. There were reflexes from movie called 'Valley of Flowers'. In rural areas people have tough life physically like in urban cities people have tough life mentally. Its very layered kind of look."
He said he feels the future of handloom is very bright .
Also Read: Young designer Sumiran Kabir Sharma brings child abuse, women trafficking issues on LFW ramp
"Before 2005 nobody used to talk and now it is the buzz word and I think this is great. We need to do a little course correction but I think it's amazing. Also you have focus on weaver which is great. 
"The current government is very proactive and Minister Smriti Irani is amazing. First time they brought all designers under one roof. I think there is a lot more awareness and fashion gives you visibility which is great," he told IANS. 
(With IANS Inputs) 
For more updates, follow our Facebook page