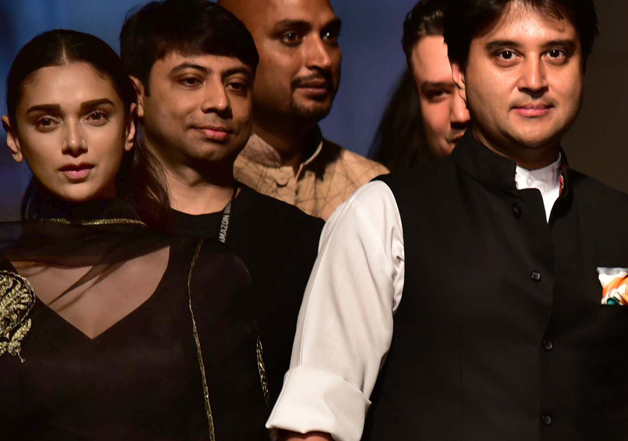 Congress leader Jyotiraditya Scindia, has lent his voice to a documentary aimed at revival of chanderi weaves. Scindia, represents Guna constituency in Madhya Pradesh and the documentary opened the Amazon India Fashion Week (AIFW) Spring-Summer 2017 here on Wednesday.
Samanat Chauhan shot the documentary and it was commissioned by by Sunil Sethi, President of the Fashion Design Council of India (FDCI). FDCI organises the bi-annual fashion gala. This time, the first two days of the event will be dedicated to the power of Indian handlooms and textiles.
For the opening show as many as 16 designers came together, to create four ensembles each. The motive was to encourage designers to use chanderi in their work in a bid to boost the languishing crafts sector.
While Anita Dongre played with hues of cream and pale gold on skirts, shrugs with booti work in golden shades, Ragini Ahuja experimented with transparent chanderi jackets, shifts with crop tops and simple wearable trousers.
Aneeth Arora showcased cold cut shoulder light flowy tunics, all in hues of white with a flower or two giving a simple attire a very classy look.
The collections shown by the designers exuded simplicity in classy and wearable colours like cream, pale yellow, grey, dull silver, peach and green.
Other designers who joined hands to promote chanderi were Gaurav Jai Gupta, Karishma Shahani Khan, Payal Pratap, Rina Dhaka, Ruchira Sachdeva, Shruti Sancheti, Atsu Sekhose and Yogesh Chaudhary. Chauhan too showcased his creations,
AIFW is being held at the NSIC Grounds, Okhla here, and will conclude on Sunday.
(With IANS Inputs)