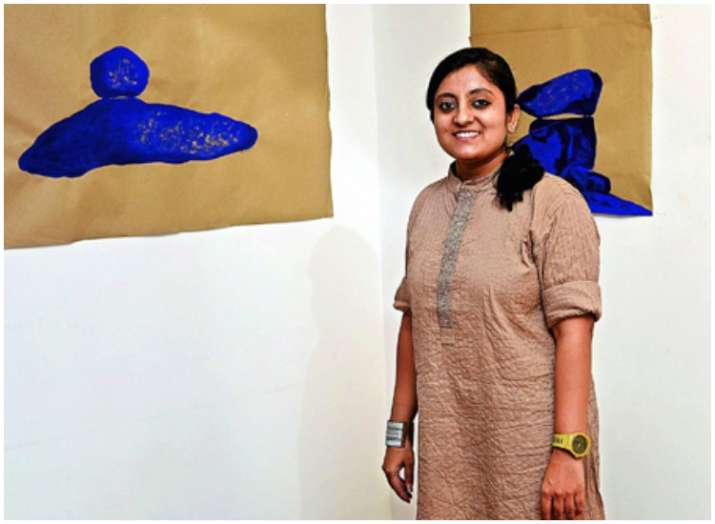 Interactions with an unfamiliar land, nudging reminders of a 'different' space and time and an interplay between word and images melt together in artist Aishwarya Sultania's solo show here that kicked off on Thursday as part of an Indo-French art series.
Titled "Unwarping Time", the show of over 16 prints and photographs was created over a period of 14 years, starting 2004. Most of them are part of eight years of studio work after 2010.
Taking place at the Alliance Francaise de Delhi, the show opens the cultural centre's "Inview" art exhibition series that seeks to promote young Indian artists with a French connection.
Sultania, who believes that "language is just a layer and one has to unpeel it to go beyond it", studied art at Ecole Nationale Superieure des Beaux in Paris in 2010.
Some of her exhibits bring out not just her encounters and negotiations with the French culture and language but how she was affected by a foreign land.
Recalling an initial "hesitant and unfriendly" nature of the French people, Sultania pointed to an installation she made of a grand icon immediately recalled as French, the Eiffel Tower.
"I made an Eiffel Tower, and I roamed around the city with it. It's a performance. The moment they (the French) saw something familiar, they came at me like childhood buddies," the 34-year-old told IANS about her "Wooing Paris" work.
On another level, this time a linguistic one, is a series of five 'curtains' where Sultania has printed a self-written poem in Hindi, French and English, along with two illegible digital languages.
The poem, she said, asks why people can't go "between and beyond" the language barrier and discover their inherent humanness that binds them together.
What is interesting is the interplay between imagery and words, and as Sultania says, gradual unpeeling of the language layers. As the viewer encounters the first curtain of the installation, the inability to decode a digital language is vexing.
However, on putting two and two together, the motive behind the installation is 'unpeeled' -all foreign scripts look just like images till one learns them.
"Bangla looks a little like Hindi, but not quite Hindi. Malayalam looks like a bunch of spirals and curves. You can't decode the meaning until you learn what the script signifies," said the show's curator, Shruthi Issac.
Threaded together by more instances from her life in the French capital, the show proves to be a resource on an artist's find of the familiar in the unfamiliar.
"I never wrote in Hindi before Paris happened. Questions of identity look like insignificant cliches till you're in a foreign land, but they hit you once you are. You tend to reconnect to your roots more strongly," Sultania, who has studied visual and performing arts in London, Chandigarh and Sardarshahar (in Rajasthan) said.
As the curatorial note explains, a 'rencontre' with an unfamiliar culture and language result in abstractions of word-image and of memory-time that enrich the artist's practice.
The exhibition is open for public viewing till November 27.
(IANS Inputs)
For latest Lifestyle updates, check out our Facebook page!