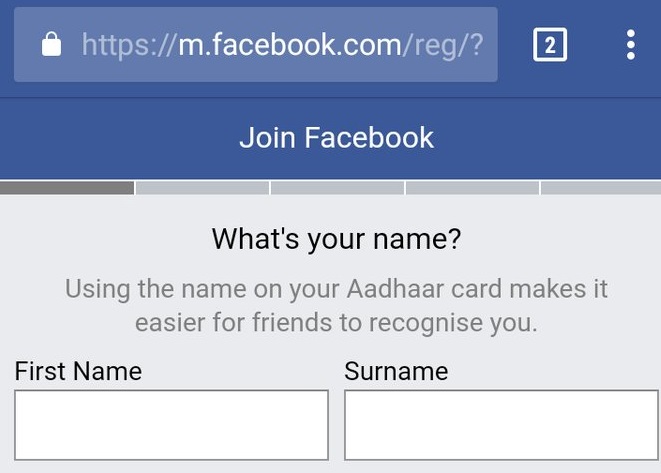 The social media giant Facebook has landed in the conspiracy soup by asking new users to give their names 'as per Aadhaar'. Select users across India can see a message encouraging them to register on social networking site with their Aadhaar name on sign up page so that friends can find them easily. 
"What's your name? Using the name on your Aadhaar card makes it easier for friends to recognise you," the prompt reads. The testing was first spotted by users on Reddit and Twitter. 
While several people on microblogging site claimed to have recreated the prompt in their browsers, we were not able to do it. Facebook has since admitted the policy, but only to route out fake profiles.  
Just what you need @facebook wants you to enter your name as exactly in your #Aadhaar card.https://t.co/qkOCfYf6eE pic.twitter.com/9nrszl5rsb

— Srinivas Kodali (@digitaldutta) December 26, 2017
This one doesn't worry me so much. Facebook wants real names per a long standing policy. Aadhaar is now the most recognised government id with real names. If they wanted Aadhaar numbers, that would be something else.

— Kiran Jonnalagadda (@jackerhack) December 26, 2017
"We want to make sure people can use the names they're known by on Facebook, and can easily connect with friends and family. This is a small test where we provide additional language when people sign up for an account to say that using the name on their Aadhaar card makes it easier for friends to recognise them," a Facebook spokesperson said in an email response to several media houses.
It is noteworthy that using the same name as on Aadhaar card is an optional features and not compulsory. Additionally, the company has not asked for Aadhaar card or UIDAI number or image of the ID. 
Not a new feature
While the news of Facebook asking for name as on Aadhaar has kicked up controversy in India, it is not a new feature. The company has been advising users to use same name as any other official photo ID, including driver's licence, passport, health insurance card, etc, to bring down the number of fake profiles or bots. 
In some countries, Facebook also advises users to take a picture using front camera to activate facial recognition mode. 
How hard is it?

1. Facebook has a longstanding real names policy.

2. The average Indian's understanding of real name is what they give for Aadhaar or their bank account.

3. An Aadhaar card is meant to be id proof, unlike a bank account.

See? No conspiracy involved.

— Kiran Jonnalagadda (@jackerhack) December 27, 2017
Aadhaar name request just for Jio users? 
Several Twitter users claimed that the message requesting name as on Aadhaar prompted on Facebook only when people used the phone using Reliance Jio sim card. 
It's confirmed for multiple people on jio

— Srinivas Kodali (@digitaldutta) December 26, 2017
I guess FACEBOOK feels , most of Jio customers got the SIM giving Aadhaar, and won't hesitate to give to FACEBOOK ? Then , it's focused behavioural target

— vasundhar (@vasundhar) December 26, 2017
However, when we tried to sign up on Facebook using a Jio sim, the prompt either said 'Using your real name helps friends find you' or 'People on Facebook use their real name so that friends and family can find them easily'. There was no message related to real name when we tried the same using other networks. 
Is it a conspiracy? 
With over 215 million users, India is second largest market for the social networking website. The company has mentioned it time and again that it is on a war footing against fake profiles and bots on its network to avoid another embarrasment like Russian fake news rackets during US presidential elections. 
Thus, in crux, Facebook's real name policy will help maintain safety and security of all its users and their data. And since extent of privacy invasion remains limited to already agreed terms and conditions during sign up.