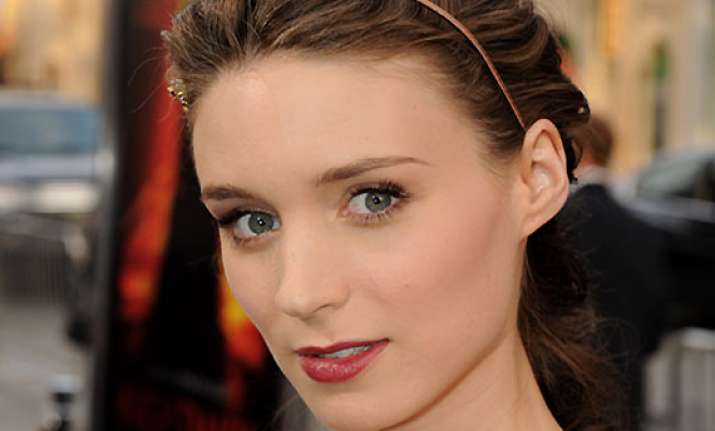 Los Angeles, Dec 19: The cast of "The Girl with the Dragon Tattoo" had much to celebrate this week as the film's star Rooney Mara received a best dramatic actress Golden Globe nomination for her role as traumatized victim-turned-avenger Lisbeth Salander.

"You know it's really nice to be recognized, you know so many people worked really hard on this film, most important to us is that people really like the film," said Mara.

"She does something remarkable," explained Mara's co-star Stellan Skarsgard. "But I mean the only reason not to give her an Oscar is because people don't understand how difficult it what she does. Because it is really intelligent and really difficult and there's no vanity in it. She doesn't try to be loved and yet you cannot stop loving her after a while."

"Dragon Tattoo" star Daniel Craig was pleased that his other movie, "The Adventures of Tintin," was nominated for best animated feature film.

"That's all good," said Craig. "It's great. It's a lovely movie. I hope people get to see it here because it's done very well in the rest of the world but they're just releasing it here now. So that's the family movie. This ('Dragon Tattoo') isn't the family movie."

"Tintin" chronicles the treasure-seeking exploits of Belgian artist and writer Herge's comic-book hero.

82-year-old screen icon Christopher Plummer said he was woken up Thursday to the news of his supporting actor nomination for his role as an ailing, elderly father who comes out as gay in "Beginners."

"I was still asleep and dreaming and thought 'can you interrupt me with this news, do you call it?" Yes, of course I was thrilled," said Plummer who plays retired industrialist Henrik Vanger in the "Dragon Tattoo."

Rooney had another reason to celebrate—FX's "American Horror Story," which stars her sister Kate Mara, was nominated for best television series.

"I know I was actually really excited to hear that as well," said Mara.

The film's other nomination went to Trent Reznor and Atticus Ross for their original score.

"The Girl With the Dragon Tattoo," by director David Fincher, opens in North American and Scandinavian on theaters Dec. 21.