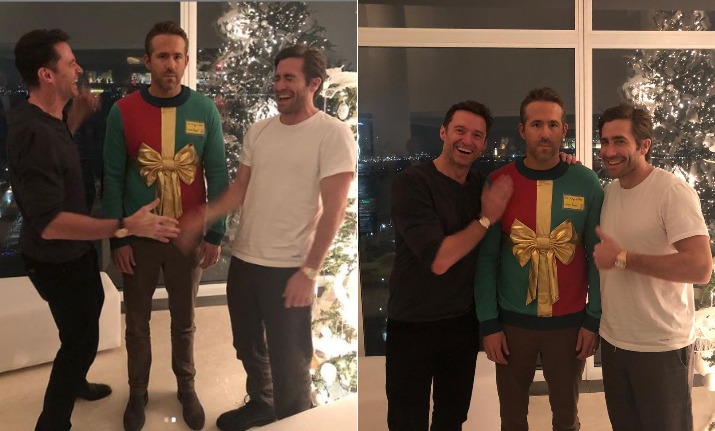 It just made our day when scrolled through our social media feed and found this hilarious picture shared by Ryan Reynolds. In the picture, the Deadpool actor is standing with a poker face while Jake and Hugh are laughing their wits out. The picture was captioned with a number of cuss words for Jake Gyllenhaal and Hugh Jackman, for the obvious reasons. "These f***** a***** said it was a sweater party," Ryan wrote on his Instagram. The picture went viral on the internet and no time. The expression on Ryan's face turned out to be fodder for many memes and we're not even asking why.
What happened actually was that Ryan Reynolds was apparently informed that it was a sweater party, while it wasn't. He ended up wearing a full-fledged Christmas themed sweater to the party where he was mocked by his friends Jake and Hugh.
Ryan Reynolds and Hugh Jackman are often seen pulling pranks on each other on social media. Their funny banter started when Ryan cracked jokes on Jackman's Wolverine in Deadpool's first part. This even continued in Deadpool 2.
Hugh Jackman even joked in a recent video, "Ryan Reynolds may seem like an honest, hardworking movie star, husband, and father, but don't let that get in the way of the truth. The truth? He's been riding Hugh Jackman's coat tails since 2009, when Hugh hand-selected him to star in X-Men Origins: Wolverine, in the universally acclaimed, best portrayal of Wade Wilson, ever."
They threw insults at each other on Twitter and even gatecrashed each other's interview. Their banter seems very much like what we have with our best friends. No matter how much we love them, we often insult them and laugh at their expense. Isn't it?