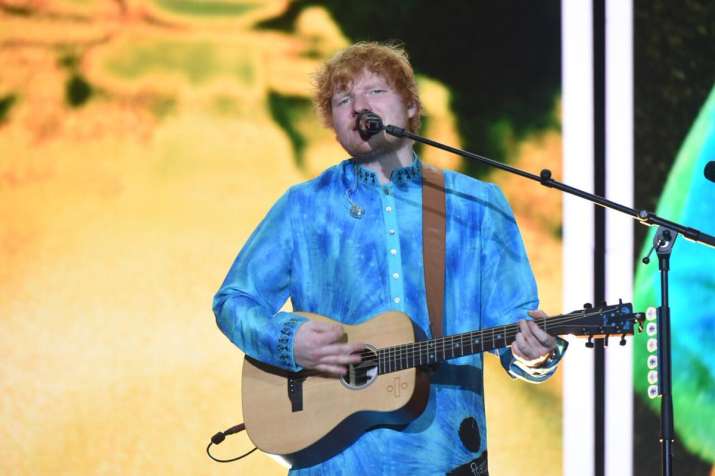 Dressed in a blue kurta (kurta had his album name 'Divide' written in Hindi on it) and sporting a wide smile,  singer Ed Sheeran rocked Mumbai in his live concert. The fans were floored with his perfect concert and superhit numbers. Some fans were thankful he didn't lip-sync! (Remember Justin Bieber episode that left his fans disappointed in India?)
The 26-year-old singer who arrived in Mumbai on Friday and partied at Farah Khan's residence with celebrities, was on time and won over everyone with his songs. From A Team (2011 album), Perfect, Eraser, How Would You Feel to the crazily viral Shape of You, Ed Sheeran kept everyone dancing and grooving to his beats. The best part was him singing his viral Shape of You in Indian team jersey. The crowd totally went berserk. The energy and enjoyment was beyond words that made it a truly magical spectacle.
Check out some social media posts to see just how much fun it was out there:
Ed Sheeran Looks #Perfect In Indian Attire. Thank You #EdSheeran. Do Visit Again. Lots Of Love From India. 🤗🙏🇮🇳#EdSheeranIndia #ShapeOfYou#EdSheeranMumbai #DIVIDE #DivideTour pic.twitter.com/w5IsxSC84I

— Sir Jadeja (@SirJadeja) November 19, 2017
You can love Ed Sheeran but never more than he loves himself. pic.twitter.com/qxriMaqrN5

— sheeran (@teddyxsheeran) November 19, 2017
Ed Sheeran was so good tonight. And he rocked his concert look with that Blue Kurta! #EdSheeranIndia pic.twitter.com/tMDPIdkwhw

— ਪਾਰਸ ऋषि (@parasrishi) November 19, 2017
Playing a mix of his old and new hit tracks, Ed Sheeran revealed, "First instrument I learnt was the piano. But I kind of forgotten how to play that."
Apparently he isn't wearing an ordinary kurta there's DIVIDE written on it in Hindi 😭 Legend! #EdSheeranIndia pic.twitter.com/ZNBHFulPrF

— siddhant. (@ignoreandfly) November 19, 2017
Listening to A-Team by our man Ed Sheeran @reliancejio #EdSheeranOnJio @JioGarden #EdSheeranIndia pic.twitter.com/Ahq0H0YMLv

— Zeeshan Jehangir (@Zeeshanjkhan) November 19, 2017
The concert that started at 8 pm ended at 9.30 pm. Ed Sheeran's India concert was a part of the singer's Asia's tour.