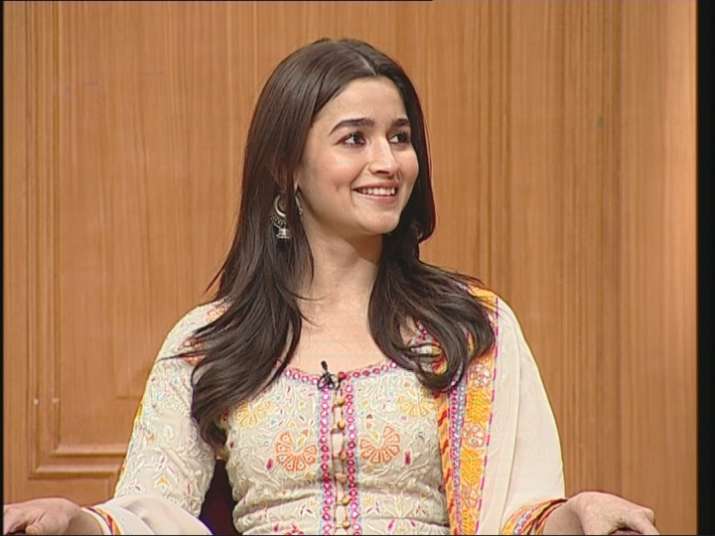 Bollywood actress Alia Bhatt is garnering rave reviews for her performance in Meghna Gulzar's Raazi. The actress who impressed everyone with her heart-wrenching acting in the spy thriller made an appearance on the popular talk show Aap Ki Adalat on India TV. 
While talking to India TV's Editor-in-chief Rajat Sharma, the actress divulged many interesting details about her personal life and films. She went candid about her latest film Raazi, which is set against the backdrop of the 1971 Indo-Pak war. The daughter of veteran Bollywood director Mahesh Bhatt, also spoke about her alleged relationship with her Brahmastra co-star Ranbir Kapoor. Tune in to India TV to watch the episode.
When Alia broke down in front of her father Mahesh Bhatt
Alia recalled an incident in Aap Ki Adalat when she broke down in front of her father. "When I told my dad that I was feeling nervous for her first film, he just called me to his office and made me stand in front of around 7 people including Pooja Bhatt and Emraan Hashmi. He told me to explain how I was feeling and while talking, I started crying," the actress said.
Briefing about preparations that she underwent for the role of Sehmat in Raazi, Alia told Rajat Sharma, "I've learned how to drive a Jonga for Raazi. I've driven many cars in my life, but it was my first time with a Jonga. I was very nervous while driving such a heavy vehicle as I didn't want to ruin such an important scene in the film. All the roles which I've portrayed in the past few years required hard work. But Sehmat is special for me, as it's based on a true story''.
For the uninitiated, Alia Bhatt wore the Pink saree from her Vidaai sequence for more than 175 times during the shooting. Shedding light on it, she said, "The Vidaai sequence of Raazi captured Sehmat's journey from her hometown in Kashmir to Pakistan. Since the shooting took place at different locations including Patiala and Malerkotla, I had to wear that same pink saree at every location."
Alia reacts on jokes and memes made on her
Alia Bhatt's goof-up up at Koffee With Karan is one of the most talked about episode of the talk show so far. On her first appearance, when she was asked about the President of India, she enthusiastically prompted, 'Prithviraj Chavan'. Bollywood fans were shocked to know that an actress can make such a blunder on national TV.
Ever since then, social media platforms like Facebook, Instagram and Twitter are full of Alia Bhatt jokes. Alia also found herself mired in controversy after she performed in Uttar Pradesh's Saifai village. She was criticised for being 'politically unaware' about the unrest that shrouded the state back then. Recalling the incidents, she said, "I was totally unaware about the condition of the state. However, after that incident, I became more aware."
When Mahesh Bhatt was quite conscious about male friends of Alia Bhatt
Talking about her teenaged days, the actress revealed that her mother didn't like late night partying, hence, she would stop Alia from staying late outside. The actress also said that her director father Mahesh Bhatt was quite conscious about the boys who came to meet her. Recalling an interesting incident, Alia said that once she gifted an expensive gift to one of her male friends and her father enquired about it. When he came to know that it is an expensive present, he demanded a gift worth the same amount from Alia. ''Now, my credit card is connected to his account and whenever he has to buy books, I pay for it,'' said Alia.
While talking to India TV's Editor-In-Chief Rajat Sharma, Alia said that she doesn't have anything to hide in her life. She is like an open book but she doesn't prefer talking about her personal life. However, she shares everything with director Karan Johar. When asked about her affair rumours, the actress said that she will neither deny nor accept it. She also said that such speculations in media don't affect her at all. "I don't like to talk about my personal life in public. If there are rumours about me, then I shouldn't get affected by them. If there is some truth in these speculations, then obviously they shouldn't bother me. Neither I want to accept them, nor will I deny. However, if the reports are not true in any sense, obviously I'll come out in public to clarify myself. But I will never accept rumours about my relationship status in public," she added
''I got my first opportunity because I am Mahesh Bhatt's daughter''
Answering a question by Rajat Sharma, Alia said, ''No one should want to be 'Alia'. Everyone should have their own identity and the aim should be to achieve more than whom you look up to. May be I got the first opportunity because of my father but ultimately hard work pays off''.
Recalling an incident of her childhood, Alia said that she can't tolerate failure. Alia said that when she couldn't win in the annual sports day during her 4th standard, she was quite disappointed and went to her father Mahesh Bhatt. Even when her film Shandaar tanked at the box office, her father was there beside her. Alia said, ''At that time my father told me 'Best revenge is a massive success'''. She put the quote on a board and hung it on the wall behind her bed. Following it, she gave many hits such as Kapoor & Sons, Dear Zindagi, Udta Punjab, etc.
Alia said that she feels responsible when biggies of Bollywood such as Amitabh Bachchan, Gulzar, etc support and encourage her for her good work.