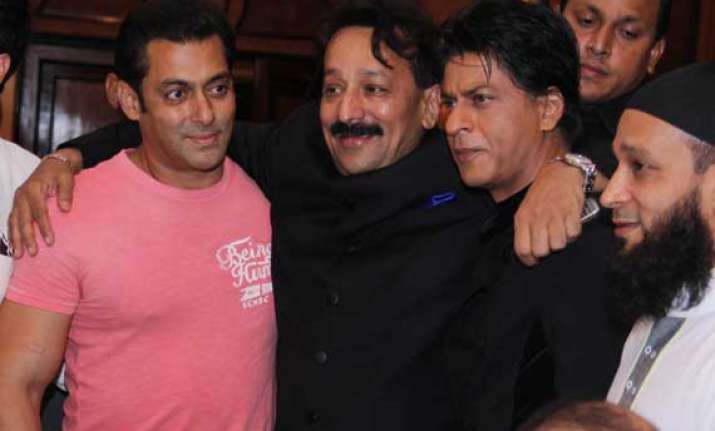 New Delhi, Jul 23: The two biggest Khans of Bollywood - Salman Khan and Shah Rukh Khan have hugged each other and Bollywood is celebrating. But have they really 'patched up'?
The reunion of the two Khans has left all the celebs and admirers going round for it. But there is still a big quiz that have the two actors finally burnt their 5-years old rivalry.
We don't think so, the bad boy of Bollywood – Salman Khan 'who never forgets and never forgives' has reunited with his arch rival Shah Rukh Khan.
Salman's brother Sohail Khan who was also present at the he supposedly historic patch-up has told a leading daily, "They just greeted each other. There is nothing more to it."
The greetings which witnessed in MLA Baba Siddiqui's Iftar bash though was surprising after which speculations were made that it's the beginning of a new friendship.
But when we had a closer look at the video it was clear that after they posed for the shutter bugs they turned blind eye towards each other and never got involved in a verbal communication.
Has Salman Khan who does full justice with his pals and foes, overlooked the brawl he had with Shahrukh Khan back in 2008 at Kat's birthday bash? Was it that easy for Salman to move on with the issue?
According to reports, a source close to Salman has revealed that Sallu Bhai will never again be friends with Shah Rukh Khan. The source also adds that it was because of the host that Salman made that move and there is nothing more to it.
Dabangg Khan didn't forgive Vivek Oberoi even after his public apology.
The actor
John Abraham
is also in Salman Khan's hate list. After a stage performance back in 2006 where they clashed over the fees, Khan and his family turned their back against him.
We wish that this may really be the end of Khans war as all is well that ends well.