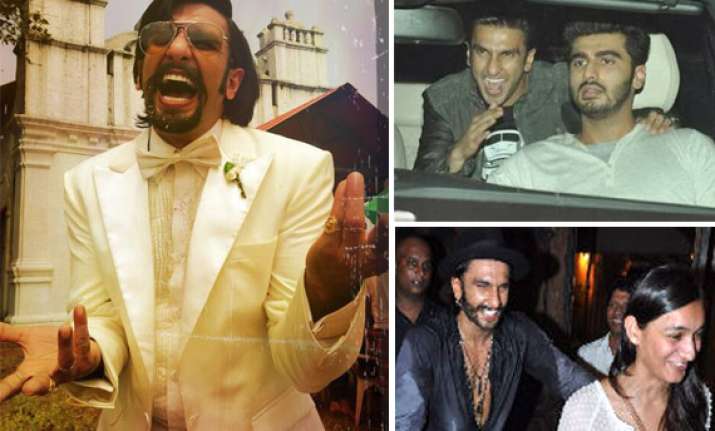 New Delhi: Ranveer Singh's first look in Homi Adjania's 'Finding Fanny' is here and how crazily cheerful he is looking in it.
No wonder the happy-go-lucky actor is always jolly whenever spotted and so when required to play his self in the flick what could have stopped him to do that.
The trailer of Finding Fanny itself suggests that Ranveer is doing a cameo and that he dies just after few minutes getting married to Deepika aka Angie.
But he looks larger than life in the snap shared by him as he tweets, "Dead?!...Looks full of life to me...  ;)  #gabo #findingfanny @homiadajania @arjunk26 @deepikapadukone"
Dressed in a groom's attire, the actor stands ahead of a Catholic Church for his wedding with Deepika. While, it's still unknown what more meat he is going to bring into the flick, Ranveer's appearance guarantees he is up with a laughter dose for its audience.
But it has prompted us to guess what keeps him so joyful every time. For this snap, we could say may be it's the happiness of marrying his off-screen girlfriend Deepika Padukone.  
But at earlier occasions too, the actor has been spotted carrying a million dollar smile on his face. Take any bash thrown or while promoting any of his flicks, Ranveer never shied from expressing himself at either of those events.
Even during the screening of flicks like Lootera, Ram-Leela among others, the actor has enlightened the surrounding with his wide grin.
Among his good friends, Ranveer has been spotted mostly with Arjun Kapoor attending galas and once the party got over, he was surely the one who couldn't be missed out.
At Karan Johar's 41st birthday bash, the actor was once again at his happiest best. While most of the b'wood celebs try to be as formal as they can, Ranveer Singh never hides his emotions and it is those positive vibes which tickles the funny bone of any one close to him.
Well, we would recommend him to 'keep smiling' like this forever!