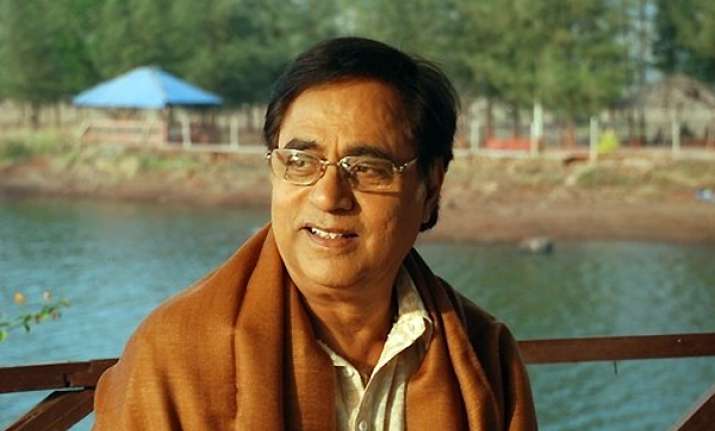 Mumbai, Oct 10: The uncrowned king of Indian ghazal singing Jagjit Singh passed away this morning at around 8 am in Mumbai's Lilawati Hospital. He was 70 years old.
 
Jagjit Singh suffered a brain haemorrhage on September 23 and had undergone a lifesaving surgery, but was in a critical condition since then.
 
Born on February 8, 1941, Jagjit Singh gained acclaim together with his wife, Chitra Singh in the Seventies and Eighties as the first ever successful duo act (husband-wife) in the history of recorded Indian music.
 
Together, they are considered to be the pioneers of modern  ghazal singing and regarded as most successful recording artistes outside the realm of Indian film music.

 
He has sung in Punjabi, Hindi, Uru , Bengali, Gujarati, Sindhi and Nepali  languages. He was awarded India's third highest civilian honour, the  Padma Bhushan  in 2003.
 
Jagjit Singh suffered an intracranial hemorrhagic stroke, or bleeding within the skull. This kind of bleeding could occur when a blood vessel within the skull is broken or leaking.
Widely credited for the revival and popularity of ghazal by simplifying the complex form of ghazals in to a more simpler form, his music became popular in mass media through films such as Prem Geet (1981), Arth and Saath Saath (1982), and TV serials Mirza Ghalib (1988) and Kahkashan(1991).


With a career spanning over five decades and a repertoire comprising 80 albums the range and breadth of his work has been regarded as genre-defining.

He is the only composer and singer to have composed and recorded songs written by former Prime Minister Atal Bihari Vajpayee, also a critically acclaimed poet - in two albums, Nayi Disha (1999) and Samvedna (2002). Prime Minister Dr Manmohan Singh and his wife Gursharan Kaur are known to be his avid admirers.

On May 10, 2007, in a milestone joint session held in the historic Central Hall of India's Parliament , Jagjit Singh rendered the last Mughal emperor Bahadur Shah Zafar's famous ghazal  "Lagta nahin hai dil mera" to commemorate the 150th anniversary of India's First War of Independence (1857).


Together with sitar legend Ravi Shankar and other leading figures of  Indian classical music,  Singh has voiced his concerns over politicisation of arts and culture in India and lack of support experienced by the practitioners of India's traditional art forms, particularly folk artists and musicians.

Jagjit Singh was born in Sri Ganganagar, Rajasthan  to Amar Singh Dhiman, a government employee, a native of Dalla village in Indian Punjab  and his mother, Bachan Kaur from Ottallan village, Samrala.

He had four sisters and two brothers and he is known as Jeet by his family. He was raised as a Sikh by religion.

He graduated in Arts  from DAV College, Jalandhar. He was a post-graduate in history  from Kurukshetra University.


His association with music goes back to his childhood. He learnt music under Pandit Chhaganlal Sharma for two years in Ganganagar, and later devoted six years to learning Khayal, Thumri and Dhrupad forms from Ustad Jamal Khan of Sainia Gharana.

Chitra stopped giving public performances after their only son, Vivek, died in a road accident in the early 1990s. But Singh continued to charm audiences, singing with equal ease in Punjabi, Hindi, Urdu, Gujrati, Sindhi and Nepali languages. 

Jagjit Singh arrived in  Mumbai in 1965 in search of better opportunities for being a musician and singer. His early struggle in the music industry, though not too harsh by his own account, still had its share of trials and tribulations. He lived as a paying guest and his earlier assignments were singing advertisement jingles or performing.


Jagjit Singh was first offered to sing in a Gujarati Film. "Dharati Na Chhoru" produced by  Suresh Amin, famously known by Jagjit Singh as "Jholi Vaaley Baba" : known so, because he carried a Red Shoulder Bag wherever he went. When Suresh Amin died in 1998 hepaid a special Tribute to  him by singing  the song " Chitthi Na Koi Sandesh ".

During 1970s, the art of ghazal singing was dominated by well-established names like Noor Jehan, Malika Pukhraj, Begum Akhtar, Talat Mehmood and Mehdi Hassan.

However, he was able to make his mark and carve out a niche for himself. In 1976, his album The Unforgetables hit music stores.


Essentially a ghazal album, its emphasis on melody and Jagjit's fresh voice was a departure from the prevalent style of ghazal rendition, which was heavily based on classical and semi-classical Indian music. Skeptics had their own reservations, purists scorned it but it was widely successful among listeners and the album set new sales records.

In 1967, Jagjit met Chitra, also a singer. After a two year courtship they got married (1969). They epitomize the first successful husband-wife singing team. Jagjit and Chitra Singh have made immense contributions to 'Ghazal' music and the Indian music industry in general.


Successful releases of the duo include Ecstasies, A Sound Affair and Passions. While these albums were breezy, Beyond Time released in the opening years of 1990s was an experimentation with sounds and conveyed a feeling that was beyond space and time.

Around this time the duo was struck by grief, when their only son, Vivek (21), met an untimely death in a road accident on 28 July 1990. Their subsequent album 'Someone Somewhere' was the last album with ghazals sung by both. The album is a tour of the soul, ethereal, conscientious and introspective. These ghazals have a moving quality to them since they embody a feeling of deep personal loss. After that Chitra Singh quit singing.


Jagjit Singh's later albums, including Hope, In Search, Insight, Mirage, Visions, Kahkashan (meaning "Galaxy"), Love Is Blind, Chirag (meaning "Lamp"/"Flame") also achieved success. Sajda , which has ghazals sung by Jagjit and  Lata Mangeshkar was another brilliant release and made its mark as a classic Ghazal album.

The combined successes of his many albums made him the number one ghazal singer in India.

The audience wanted more and Jagjit Singh obliged with his Punjabi albums. Ebullient, effervescent and bubbly, his Punjabi songs are pleasant as well as joyous.


His enchanting ghazals use the choicest poetry by renowned poets including Mirza Ghalib, Firaq Gorakhpuri, Qateel Shifai, Sudarshan Faakir and Nida Fazli.

Jagjit was born Jagmohan at birth, his devout Sikh father rechristened him Jagjit on the advice of his Namdhari guru. Jagjit's early years were spent in Bikaner, where his father was posted as a public works department employee.