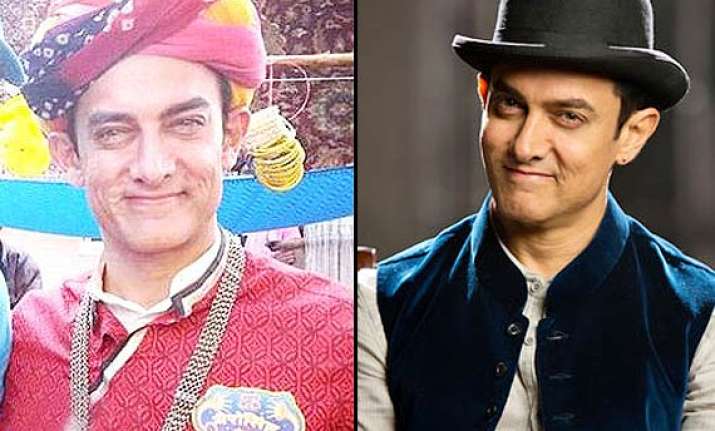 The 'Khans' of Bollywood have their own connection with the release dates of their films. And while Salman has got 'Eid' as his favourite, Mr. Perfectionist, Aamir Khan sees Christmas season as his lucky arena.
Last year's blockbuster, 'Dhoom 3' hit the chord on December 20, and this year, it would be his P.K. which is set to release on December 19.
Needless to say, Aamir takes home tons of appreciations and success with his each film released and with the special charm of the Christmas season, Aamir spills magic on screen every time his films take-off during this season.
Not only Aamir, his directors and producers too seem keen towards releasing his films around the wintry celebration time. If reports are to be believed, both Rajkumar Hirani and Vinod Chopra are aware that Aamir's films released during Christmas have done well and therefore even they do not want to hamper the success league of the actor's films.
With Aamir's P.K., a pure entertaining year end is there for sure but another much anticipated film of the year, 'Bombay Velvet,' too has been slated for release on December 25.
Bombay Velvet that stars
Ranbir Kapoor
and Aushka Sharma in pivotal roles was earlier getting clashed with 'P.K.' with the release dates of both the films being December 25. But with the recent announcement, Aamir's P.K. will hit the theatre prior to Ranbir's 'Bombey Velvet.'
P.K. also stars actor Sanjay Dutt, Sushant Singh Rajput and
Anushka Sharma
in prominent roles.
Now since the two big films of the year are yet to clash at the box office around the same time, it will be interesting to see which one would get a slight push ahead.
Also, since Aamir's P.K. has already generated many raving views among the audience, would the film be able to add to the actor's league of rendering Christmas success! Let's wait and watch!