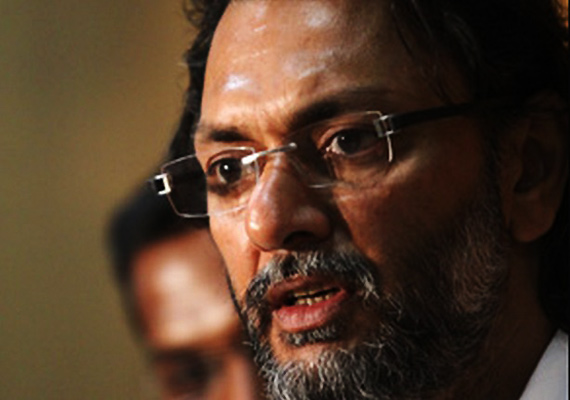 Chandigarh, Feb 21: Director Rakeysh Omprakash Mehra says his film on legendary athlete Milkha Singh is not on sports but a story of the human spirit.

"It is important for me that the script encourages the young generation," Mehra told reporters here.

Mehra, from whom Milkha took a meagre one rupee to sell the story on his life, said that "The project could never had succeeded if Milkha would not have blessed us." "We will make the film in such a way that people see it and praise it," Mehra, who made the blockbuster 'Rang De Basanti', said.

On being asked that how such a project can be commercially viable, he said, "Hard work can do wonders for a film."

Mehra, however, said "I wish there is a formula for commercial success. We have lovely team... we can work together and hopefully do the right things in a right way so that people accept the project," he added.

Describing the project as the "story of a living legend", he said "in a way it is like writing history." Mehra, who bid for Milkha Singh's shoes which he wore in 1960 Rome Olympics for Rs 25 lakh at Mumbai recently, said "the pair of shoes are priceless."

On the occasion he, alongwith Milkha himself presented the "spikes" to the film's star Farhan Akhtar.

"I could have all my money earned through films to buy the priceless spikes," Mehra said adding, "If would have been short of cash I would have stolen the shoes." Speaking on the occasion, Milkha, 76, said that he wants the film to be made in such a way that it inspires more youngsters to earn medals in athletics.

"This movie should send the message that not one but hundreds of Milkha Singh's are born in the country," he said.  He expressed resentment that he finished second in all his 400m qualifiers in the 1960 Rome Olympics and in the final he missed the bronze by a whisker. "After that no athlete has gone so far from India," he said.

Farhan, who is playing the veteran athlete in the film, said, "I read the script which blew me away. Its an important story for the generation of today. I am fortunate to play the role of Milkha."

"I will do as much as justice as possible with my role...  I owe a responsibility to Milkha. My idea will be to present Milkha on screen in such a manner that thousands of youths are inspired to become like the legenday athlete," he said.  "It is the life of Milkha which is inspiring... so much happened in his life since he was young. He fought against odds despite several constraints."

Milkha said that he preferred to give his life's story to Mehra on the advise of his son Jeev Milkha who was inspired by 'Rang De Basanti' and that he had no knowledge about new films, their actors and actresses as he saw his last film in 1960.

Milkha said that Mehra too was the member of Indian contingent in 1982 Asian games as a swimmer.

Jeev said, "I watch lot of Hindi films while traveling. If there is an inspirational movie the public will watch it," he added.

The biopic is set to go on the floors in the last week of February.