Follow us on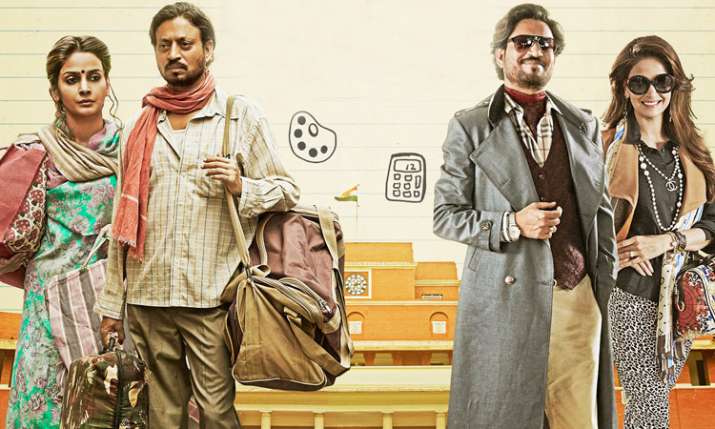 Saket Chaudhary, who directed rom-com films like 'Pyaar Ke Side Effects' and 'Shaadi Ke Side Effects', tried his hands on a novel and rather serious topic of 'Right to Education'. With 'Hindi Medium' he sought to divert people's attention to Delhi's hasslesome admission process. The Delhi residents who've buckled down a lot to get their kids admitted to the city's premier schools. This film involves a light-hearted take at a plight of Hindi-medium educated parents who want their daughter to study in an elite educational institute of Delhi. 
Story
The story is based on the life of a Chandni Chowk-based businessman Raj Batra (Irrfan Khan) and his wife Meeta (Saba Qamar). Being educated in a Hindi-medium school themselves and being mocked for the same, Raj and Meeta want their only daughter Piya to study in Delhi's top English-medium school. Though, they are pretty well-to-do, but their unsound English often brings them the bad name in the high-class society. This marks the beginning of couple's vehement efforts to get Piya enrolled in a top English-medium school.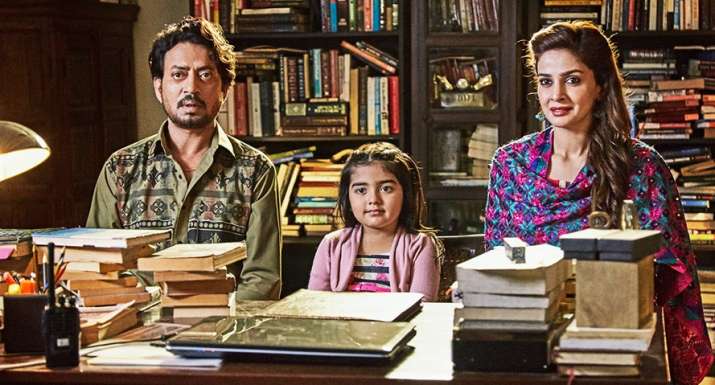 Review 
Talking about the topic of the film, it speaks about the jarring reality of the national capital. The parents in Delhi have been grappling to get their kids enrolled in an English-medium school. The film also logically deals with the plain logic of how a simple language divides our society in so-called 'high class' and 'low class'.
"Who angrezi nahi bolta, ohh, he's an uneducated chap'
The well-timed humour and a carefully-planned storyline binds the audience till the end. The hilarious exchange of dialogues between the leads takes a perky jibe at our real-life scenarios. The camaraderie shared by Irrfan Khan and Deepak Dobriyal is the life of movie. Being a phenomenal actor as he is , Deepak Dobriyal's one liners will create a uproarious laughter in the hall, but will also leave a teary-eye behind. The slapstick humour manages to rib a tickle in you but at the same time it also compels us to think how shamelessly we've adopted English as a parameter to judge intelligence. 
Saket Chaudhary smartly deviates our attention to the topic that has never been raised in mainstream Indian cinema- Right to Education. The film shines phenomenally while dealing with a genuine topic in a light-hearted manner. After a long time, audience is going to experience a plain equation of emotions, comedy and of course, realism that hits your heart at the right places. The dialogues of the film were on point and beautifully crafted. The audience is hinged to seat till the end of the movie and never distracted from the screens even for a second. 
Acting
Irrfan Khan walks in the shoe of every Indian person who's in the middle-of-the-road when it comes to speaking English. Conclusively, he is respected neither by his own wife and nor by the society. The simple Indian man is swinging like a pendulum between his unpretentious 'desi' lifestyle and his dominating English-speaking wife. Irrfan Khan's acting skills is known to all of us. He doesn't need to act, he instead embeds himself into the character so flawlessly that one can't differentiate reel from real. Once again, Irrfan impresses us with his choice of film after 'Madaari'. He has enlivened the character of Raj Batra that we couldn't imagine any other actor than him playing this role. Saba Qamar on the other hand, is a sheer delight to see as a dominating 'Angrezi bolne waali' wife. She has done justice to her character.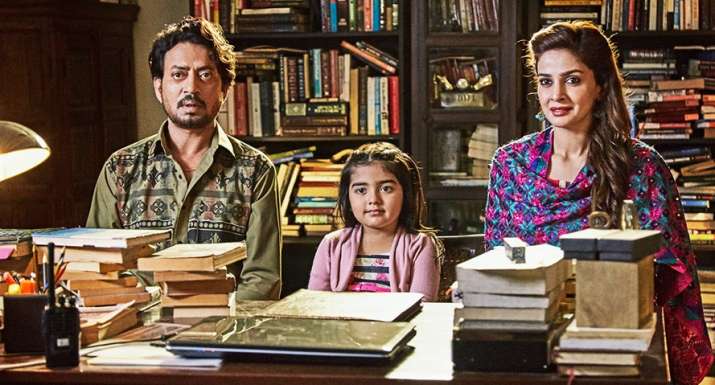 It won't be an exaggeration to say that Deepak Dobriyal and Irrfan Khan carried the film on their shoulders. Deepak impeccably transcended from his goofy avatar of 'Pappi Ji' from 'Tanu Weds Manu' to a typical lower middle-class Delhi man Shyam Prakash with million dreams in his eyes.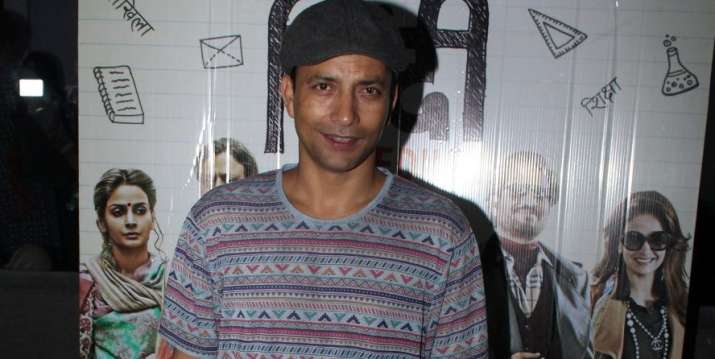 Loopholes 
The second-half could've been made lesser melodramatic than it was. The climax of the film was the thing that drizzled out the flame to some extent. It could have been less over-dramatic and of course, a bit more practical. Right from the beginning of the second-half, one can deduce the climax of the movie. 
For the sake of immaculate acting skills, storyline and of course, a hard-hitting message, 'Hindi Medium' is a must watch. I personally wish that after watching the movie, people might stop taking English as a parameter to judge intellect. Come on, it's just a language! 
Interact with me at @reshumanglik (Twitter)