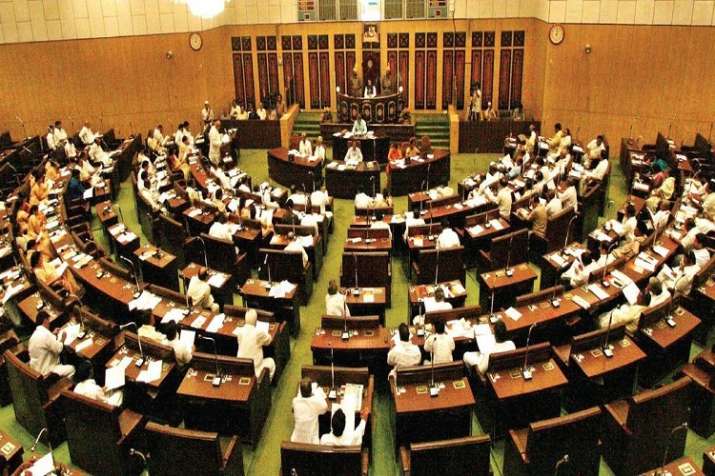 India's youngest state Telangana is gearing up for its first independent assembly elections. The state, consisting of 119 constituencies is currently ruled by K Chandrashekhar Rao, popularly known as KCR, also the president of the Telangana Rashtra Samithi (TRS).
Telangana will go to polls on December 7 in a single-phase, to elect its new assembly and the results will be declared on December 11.
While the Congress and the TDP have formed an alliance, which also comprises the CPI, to take on the ruling TRS, the BJP has decided to contest the polls alone to keep options open for the Lok Sabha polls and strengthen its organisation in the state.
TRS chief and Chief Minister K Chandrashekar Rao have been at loggerheads with TDP chief and his Andhra Pradesh counterpart N Chandrababu Naidu over several issues. Congress, on the other hand, launched a blistering attack on TRS for failing to deliver after forming the first government of Telangana.
Here's the list of constituencies, districts, Lok Sabha seats in Telangana
List of districtwise constituencies in Telangana: 
Hyderabad district constituencies - 
1. Musheerabad 
2. Malakpet 
3. Amberpet
4. Khairatabad 
5. Jubilee Hills
6. Sanathnagar
7. Nampally
8. Karwan 
9. Goshamahal 
10. Charminar 
11. Chandrayangutta 
12. Yakutpura 
13. Bahadurpura 
14. Secunderabad 
15. Secunderabad Cantt. 
Ranga Reddy district constituencies - 
16. Medchal
17. Malkajgiri 
18. Quthbullapur 
19. Kukatpally 
20. Uppal 
21. Ibrahimpatnam 
22. L. B. Nagar 
23. Maheshwaram 
24. Rajendranagar
25. Serilingampally
26. Chevella (SC)
27. Pargi
28. Vikarabad (SC)
29. Tandur
Medak district constituencies - 
30. Siddipet
31. Medak
32. Narayankhed
33. Andole (SC)
34. Narsapur
35. Zahirabad (SC)
36. Sangareddy
37. Patancheru
38. Dubbak
39. Gajwel
Adilabad district constituencies - 
40. Sirpur
41. Chennur (SC)
42. Bellampalli (SC)
43. Mancheriala
44. Asifabad (ST)
45. Khanapur (ST)
46. Adliabad
47. Boath (ST)
48. Nirmal
49. Mudhole
Karimnagar district constituencies - 
50. Koratla
51. Jagtial
52. Dharmapuri
53. Ramagundam
54. Manthani
55. Peddapalle
56. Karimnagar
57. Choppadandi (SC)
58. Vemulawada
59. Sircilla
60. Manakondur (SC)
61. Huzurabad
62. Husnabad
Khammam district Constituencies - 
63. Khammam
64. Palair
65. Madhira (SC)
66. Wyra (ST)
67. Sathupalli (SC)
68. Aswaraopeta (ST)
69. Yellandu (ST)
70. Kothagudem
71. Bhadrachalam (ST)
72. Pinapaka (ST)
Mahbubnagar district Constituencies - 
73. Kodangal
74. Narayanpet
75. Mahbubnagar
76. Jadcherla
77. Devarkadra
78. Makthal
79. Wanaparthy
80. Gadwal
81. Alampur
82. Nagarkurnool
83. Achampet
84. Kalwakurthy
85. Shadnagar
86. Kollapur
Nalgonda district Constituencies - 
87. Nalgonda
88. Suryapet
89. Devarakonda
90. Nagarjuna Sagar
91. Miryalaguda
92. Huzurnagar
93. Kodad
94. Munugode
95. Bhongir
96. Nakrekal (SC)
97. Thungathurthi (SC)
98. Alair
Nizamabad district Constituencies - 
99. Armur
100. Bodhan
101. Jukkal (SC)
102. Banswada
103. Yellareddy
104. Kamareddy
105. Nizamabad (Urban)
106. Nizamabad (Rural)
107. Balkonda
Warangal district constituencies - 
108. Jangaon
109. Ghanpur (Station)
110. Palakurthi
111. Dornakal
112. Mahabubabad (ST)
113. Narsampet
114. Parkal
115. Warangal West
116. Warangal East
117. Waradhanapet (SC)
118. Bhupalpalle
119. Mulug (ST)
List of districts in Telangana: 
1. Adilabad
2. Bhadradri Kothagudem​
3. Hyderabad
4. Jagtial
5. Jangaon
6. Jayashankar Bhupalapally
7. Jogulamba Gadwal
8. Kamareddy
9. Karimnagar
10. Khammam
11. Kumarambheem Asifabad
12. Mahabubabad
13. Mahabubnagar
14. Mancherial
15. Medak
16. Medchal–Malkajgiri
17. Nagarkurnool
18. Nalgonda
19. Nirmal
20. Nizamabad
21. Peddapalli
22. Rajanna Sircilla
23. Ranga Reddy
24. Sangareddy
25. Siddipet
26. Suryapet
27. Vikarabad
28. Wanaparthy
29. Warangal Rural
30. Warangal Urban
31. Yadadri Bhuvanagiri
List of Lok Sabha Constituencies in Telangana: 
1. Adilabad (ST)
2. Peddapalle (SC)
3. Karimnagar (None)
4. Nizamabad (None) 
5. Zahirabad (None) 
6. Medak (None) 
7. Malkajgiri (None) 
8. Secunderabad (None) 
9. Hyderabad (None) 
10. Chevella (None)
11. Mahbubnagar (None)
12. Nagarkurnool (SC)
13. Nalgonda (None)
14. Bhongir (None)
15. Warangal (SC)
16. Mahabubabad (ST)
17. Khammam (None)