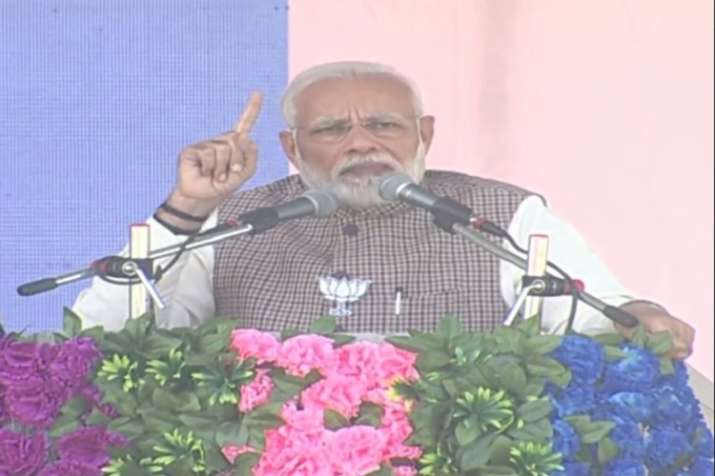 The campaigning for the much awaited Rajasthan assembly elections has reached the final stage where the polling will be held on Friday across 199 of 200 constituencies. While BJP is eyeing yet another victory, Congress is confident that it will unsettle the Raje government.
Prime Minister Narendra Modi and BJP chief Amit Shah who have spearheaded the party throughout the election campaign will campaign in the state to seek people support for Vasundhara Raje. 
During his first poll rally of the day in Sumerpur, PM Modi went on to attack Congress for perpetuating caste politics, dynasty politics and corruption. Taking a dig at the Congress party for the AugustaWestland Chopper scam, PM Modi said that the government has caught hold of the 'raazdaar' and now he will disclose the secrets of the 'naamdaars' (Congress).
He will later address a gathering in Dausa. 
HIGHLIGHTS OF PM MODI'S RALLY IN SUMERPUR
WATCH VIDEO:
1:12 pm: We found around 6.5 crore people so far who were not even born and yet were present on papers, extracting money from the system. By spotting these fake identities, we saved the Rs 90,000 crore of the people: PM Modi in Sumerpur.
1:10 pm: These four generations made corruption their moral. Corruption is the root cause of all our problems. Corruption is a termite, we need to erase it completely. Congress, which made corruption their morality, can they remove it?: PM Modi in Sumerpur.
1:04 pm: Congress' President doesn't even know the names of his own party leaders. He didn't even know the name of a popular Jat leader from Congress, late Kumbharam ji. He called him 'Kumbhakaran'. You can imagine what such people will do if they come to power: PM Modi in Sumerpur
12:59 pm: Naamdars (Gandhi's) gave away the land taken from farmers to their relative (Robert Vadra) at peanut's price. He earned 7 fold profit out of it without even investing a single penny. Shouldn't they be punished? If BJP comes to power in Rajasthan, they will surely go into jail: PM Modi in Sumerpur
12:57 pm: We brought back the middleman Rajdaar (Christian Michel) of Naamdaars (Gandhi's) from Dubai. Now even we don't know what deep troubles his statements are going to cause to Naamdaars: PM Modi in Sumerpur
12:55 pm: Naamdaar's relatives have taken away lands from farmers for free... They were colluding with Ashok Gehlot: PM Modi in Sumerpur
12:52 pm: Modi did not bring him back... Modi did not tackle Congress' corruption... All this is the power of your vote... Your vote helped a chaiwaala bring these corrupt to justice: PM Modi in Sumerpur
12:50 pm: We won in the Supreme Court yesterday. The court said that the Indian government has the right to reassess their (Sonia and Rahul Gandhi's) income tax returns: PM Modi in Sumerpur.
12:48 pm: Rahul Gandhi says that PM Modi has stopped talking about corruption. But we have taken enough and more steps to tackle corruption: PM Modi in Sumerpur
12:44 pm: They have already started making excuses, they are trying to find any possible logic so the responsibility of defeat does not lie on naamdar's shoulders: PM Modi in Sumerpur
12:43 pm: Congress which created so many divisions in society in the last 70 years, how can they work in the interest of the people? First, give an account of these 70 years, then ask about 4.5 years from us : PM Modi in Sumerpur
12:42 pm: I was not born with a silver spoon. I have seen poverty. After coming to power, I believe that there is no reason for India to be poor after so many years. Only one family is the reason for poverty. They were only interested in power: PM Modi in Sumerpur
12:40 pm: Congress has been asking what Modi's jaati (caste) is. It was Congress that has been poisoning this country on topics such as jaati since independence: PM Modi in Sumerpur
12:37 pm: Critics, who had 'predicted' a win for the Congress have now started making excuses for Congress impending loss:  PM Modi in Sumerpur
12:34 pm: I am confident that the people of Rajasthan have decided to elect the BJP. Wherever I travelled and met people, I have seen that they have decided to elect a BJP government once again. People of Rajasthan have decided. Now, our work is to win every polling booth. I don't want to win just Rajasthan, I want to win every polling booth: PM Modi in Sumerpur
12:23 pm: In 2013, the last event of our campaign happened here in Pali. This time too, an event on the last day is happening here. We can feel the breeze of Pali immediately in Gujarat: PM Modi in Sumerpur.
Addressing a press conference in Jaipur ahead of his campaign rally in Ajmer, BJP chief Amit Shah lashed out at the Congress party and said that the Rahul Gandhi-led party was involved in negative politics, promoting casteism and appeasement. The BJP, in contrast, practised the politics of development and got a good response, Shah told reporters.
Referring to the violence in Bulandshahr, Uttar Pradesh, earlier this week, Shah said it would be unfair to give it a political colour. The Congress, he added, had made allegations but things would be clear after the Special Investigation Team report.
Earlier on Tuesday, Modi and Congress president Rahul Gandhi addressed public meetings in Rajasthan in favour of their party's candidates. At an election rally in Jaipur, Modi said that Congress party pushed the state back and it was due to its poor style functioning that Rajasthan had to stand in 'bimaru state' category. On the other hand, Rahul alleged that Chief Minister Vasundhara Raje did not give time to common people in last 5 years and assured that food processing industry will be developed in the state if the Congress comes to power.
Also, campaigning in Telangana will end on Wednesday evening. The state will go to polls along with Rajasthan on December 7. Counting of votes will be done on December 11.