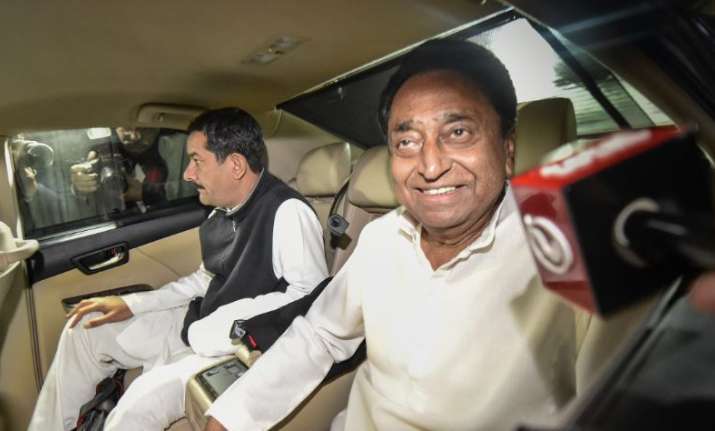 Veteran Congress leader Kamal Nath will be the next chief minister of Madhya Pradesh, announced the grand old party on Thursday night after its legislature party meet in Bhopal, the state capital. The decision came after hectic parleys through the day and till late in the night.
Congress party president Rahul Gandhi is likely to announce the names of chief ministers in Rajasthan and Chhattisgarh on Friday. 
With numbers in place to form governments in all the three states, the elected Congress MLAs on Wednesday authorised the party's national president Rahul Gandhi to decide the chief ministers. 
Gandhi, on the other hand, also reached out directly to the party workers in the three states to know their top choice for the chief minister post through an internal mobile messaging app, party leaders said.
[ALSO READ] Kamal Nath to be new Chief Minister of Madhya Pradesh, no Deputy CM in state
Earlier in the day, Madhya Pradesh Congress president Kamal Nath met Gandhi at his residence where UPA chairperson Sonia Gandhi was also present.
In MP, Congress party wrested power from the Bharatiya Janata Party (BJP) which was ruling it for 15 years. Kamal Nath's meeting took place after Jyotiraditya Scindia met Gandhi. During the meeting, Priyanka Gandhi Vadra was also present at Rahul Gandhi's Tughlaq lane residence. 
[ALSO READ] Kamal Nath: Know the new Chief Minister of Madhya Pradesh
Earlier, Gandhi also met the top contenders for the CM's post in Rajasthan - Ashok Gehlot and Sachin Pilot. 
He had met the central party observers for Rajasthan and Madhya Pradesh - K C Venugopal and A K Antony, along with AICC in-charges for the two states - Deepak Babariya and Avinash Pande, amid a flurry of parleys for selecting the chief ministers. 
WATCH VIDEO: Kamal Nath to be Chief Minister of Madhya Pradesh, there will not be Deputy CM