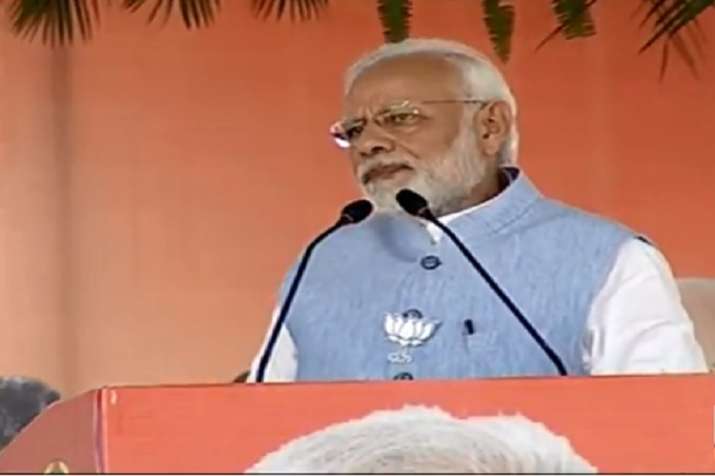 Prime Minister Narendra Modi on Sunday addressed public gatherings in Madhya Pradesh's Jabalpur and Vidisha. PM Modi who is on a campaign trail in the poll-bound states of Rajasthan and Madhya Pradesh will return to Rajasthan on Monday after winding up his campaign in Madhya Pradesh. PM Modi is scheduled to do three rallies in Bhilwara, Kota and Baneshwar Dham.
LATEST UPDATES:
7:06 pm: Elections are now approaching. I've got this opportunity to address last rally in Madhya Pradesh
7:05 pm: On the development front, BJP is continuously toiling hard
7:04 pm: In Defence sector, we emphasised on 'Make in india'
7:01 pm: Congress only makes tall promises, fulfills none
6:58 pm: For 55 years, 2900 MW electricity was generated when Congress was in power. It was increased to 18000 MW during BJP governments
6:56 pm: 2 crore LED bulbs have been installed in Madhya Pradesh
6:54 pm: From 2010-14, there was Madam's government in Delhi, which was run with a remote control. They had optical fibres laid in 59 villages in 4 years, while Modi government has done the same in over 1 lakh panchayats in the same time period
6:53 pm: Figure out the difference between the way BJP, and the way Congress works
6:52 pm: We have a dream of transforming states here in Madhya Pradesh
6:51 pm: We are striving hard to make cities of Madya Pradesh 'smart'
6:50 pm: PM Modi begins addressing a political rally in Jabalpur, Madhya Pradesh
4:33 pm: In Karnataka, Congress promised loan waiver for farmers. But, what happened? Farmers are still in distress. Warrants are being issued in the name of farmers. How can anyone even expect them to think about welfare of farmers in Madhya Pradesh," PM Modi in Vidisha.
4:30 pm: We brought the most comprehensive crop insurance scheme. Farmers are immensely benefiting from it: PM Modi in Vidisha.
4:27 pm: Congress is destroying the democracy with its dynastic politics: PM Modi in Vidisha
4:23 pm: Compare 55 years of Congress' misrule versus 15 years of good governance in Madhya Pradesh under Shivraj Singh Chouhan ji's leadership. The difference is for everyone to see: PM Modi in Vidisha.
4:14 pm: After my mother, they (Congress) have dragged the name of my father, who left this world 30 years ago, in politics: PM Modi in Vidisha.
4:12 pm: Congress indulging in abuse as it is left with no issues: PM Modi in Vidisha.
4:11 pm: Congress running out of steam in Madhya Pradesh Assembly election: PM Modi
4:10 pm: Congress has never fought an election on the basis of development and does not even dare to speak about development. Compare Congress' rule and the that in the last 15 years without them in power: PM Modi
4:00 pm: We never make any personal attacks on anyone's family. We criticized the post they held. But why are Congress leaders making personal attacks on my mother and father: PM Modi
Voting for 230-member Madhya Pradesh Assembly will be held on November 28. The results will be declared on December 11.
Madhya Pradesh is being ruled by the Bharatiya Janata Party (BJP) since the last 15 years as the incumbent Chief Minister Shivraj Singh Chouhan took over the reins of power on 29 November 2005.
WATCH VIDEO: