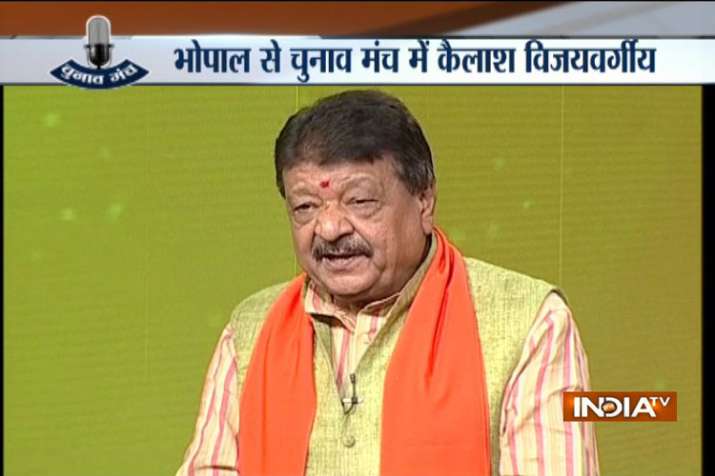 Rubbishing reports about differences between him and Madhya Pradesh Chief Minister Shivraj Singh Chouhan, Bharatiya Janata Party (BJP) national general secretary Kailash Vijayvargiya on Saturday called himself a 'troubleshooter' of the party.
Responding to question on IndiaTV's Madhya Pradesh Assembly elections special event 'Chunav Manch' in Bhopal, Vijayvargiya said talks about him having any difference with Shivraj were completely false. 
"Shivraj Singh Chouhan knows my importance, I was known as troubleshooter. He was always my leader and there were no differences with him ever. He is an undisputed leader of the party," Vijayvargiya said when asked about reports claiming that the party shifted him to New Delhi from Madhya Pradesh on Shivraj's nod. 
Here's what all Kailash Vijayvargiya said on IndiaTV Chunav Manch:
1. I fail to understand the chemistry behind Rahul Gandhi claiming himself to be a 'janeudhari' Hindu
2. Vyapam Scam was an issue but Shivraj government punished those who were guilty and would continue to do so.
3. I am ready to contest elections but will fight only if party asks me to do so.
4. We promise Madhya Pradesh will be one number state but there is no time frame to achieve that.
ALSO READ:  Chunav Manch: 'Reveal Rahul Gandhi's gotra', BJP's Sambit Patra throws challenge at Congress
5. If you say Congress is fighting as one unit, it is good for them. There is no question of unity in Congress. You don't know what game Digvijaya Singh is playing.
6.  BJP only picks up candidates who are deserving. What is the harm if a deserving candidate is son/daughter of any senior leader.
7. None of the senior Congress leader is in Madhya Pradesh at present, all are camping in New Delhi to get tickets for their closed ones.
WATCH: Chunav Manch: Shivraj undisputed leader, I have been his troubleshooter, says Kailash Vijayvargiya