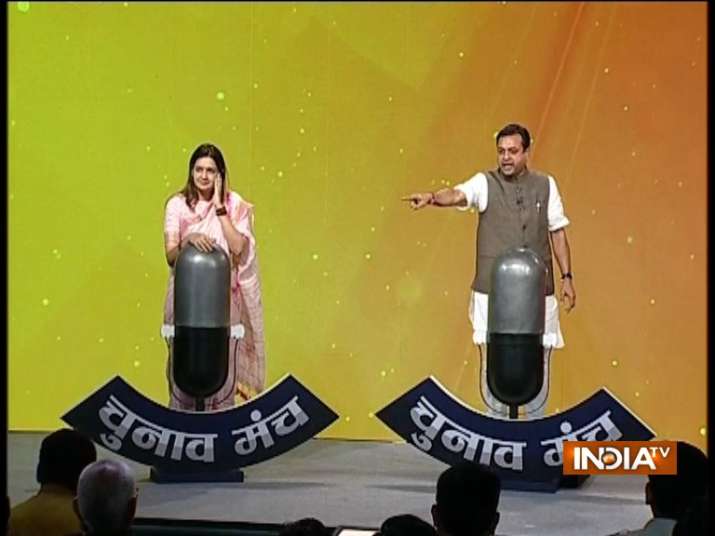 Bharatiya Janata Party spokesman Sambit Patra today raised the Sohrabuddin encounter and Godhra issues and described his party president Amit Shah as 'Hindu Hriday Samrat' (literal meaning: a king who rules the hearts of Hindus).
Speaking at a debate on Madhya Pradesh assembly elections, with Congress spokesperson Priyanka Chaturvedi as co-panelist, at India TV's daylong conclave 'Chunav Manch' here, Patra said: "Congress tried to protect Sohrabuddin, from whose home 110 AK-47 rifles, bombs and grenades were seized. Congress leaders call our party chief Amit Shah ji, who is 'Hindu Hriday Samrat' a 'tadipaar' (externed). You blame Modi ji for Gujarat riots. My heart burnt with rage the day 62 kar sevaks were roasted alive inside a train coach in Gujarat. My heart cries out for Hindus. When Hindus are burnt, no tears are shed (by Congress), but when Muslims die, they shed tears. 
"Our party will continue to fight for Hindus. (Rahul) wearing fake 'janeu' (sacredthread) and offering puja in temples won't do."
In the same vein, the BJP spokesman threw a challenge at Congress leaders to tell in public the real 'gotra' of party president Rahul Gandhi.
 
"I am saying this from this land of Mahakaal (Shiva). Swear in the name of Mahakaal, and tell me what is the gotra of Rahul. This is my challenge to Congress. I want the answer here today. He is posing as a 'janeu' wearing Hindu. Will he become a Brahmin by wearing a 'janeu' on shirt and trousers? Tell me, does Rahul belongs to the Vatican gotra, or Feroze (Gandhi)'s gotra? Tell us what is his gotra."
Congress spokesperson Priyanka Chaturvedi retorted: "You said, your heart is burning with rage, because you know your party is going to lose here (in MP). Instead of Jan Ashirvad Yatra, get ready for Alvida (farewell) Yatra. Nobody has given you the certificate to declare any person a Hindu. Nobody has given you the authority to speak on behalf of Hindu religion. And who has given him (Amit Shah) the status of Hindu Hriday Samrat? Did you give him?"
"As far as gotra is concerned, I can at least tell here, the gotra of BJP leaders is 'Modi Namo Namah'. It is because of this gotra, that they are indulging in the politics of polarization, of corruption, of pitting Hindus against Muslims, of pitting one caste against another. You people seem to have taken contract (theka) of such politics."
WATCH VIDEO: