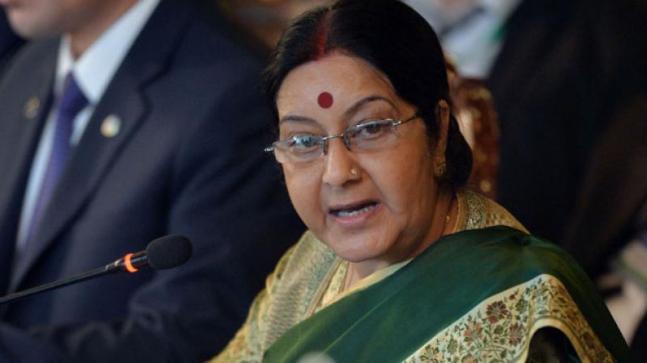 External Affairs Minister and Vidisha MP Sushma Swaraj on Tuesday said she will not contest Lok Sabha elections 2019, reported news agency ANI.
General polls are scheduled to take place in the months of April-May next year.
"I won't contest next Lok Sabha poll due to health reasons," news agency PTI quoted her as saying. The 66-year-old Swaraj, who underwent a kidney transplant in 2016, said she had conveyed her decision to the party. 
The veteran Bharatiya Janata Party (BJP) leader has been praised several times by Prime Minister Narendra Modi for her dedicated work in her ministry. 
Menawhile, Swaraj's husband Swaraj Kaushal on Tuesday welcomed her decision not to contest the Lok Sabha elections 2019.
"Madam (Sushma Swaraj) - Thank you very much for your decision not to contest any more elections. I remember there came a time when even Milkha Singh stopped running," he said in a series of tweets.
"This marathon has been on since 1977 - that is 41 years. You have contested 11 direct elections. In fact you contested all elections held since 1977 except twice when party did not allow you to contest in 1991 and 2004," he said.
"You have been four terms in Lok Sabha, three terms in Rajya Sabha and thrice elected to state Assembly. You are contesting elections since you were 25 - and fighting elections for 41 years is quite a marathon," he said.
"Madam - I am running behind you for the last 46 years. I am no longer a 19-year-old. Please, I am also running out of breath. Thank you," he added.
#WATCH: "It is the party which decides, but I have made up my mind not to contest next elections," says External Affairs Minister and Vidisha MP Sushma Swaraj pic.twitter.com/ao8FIee2I0

— ANI (@ANI) November 20, 2018