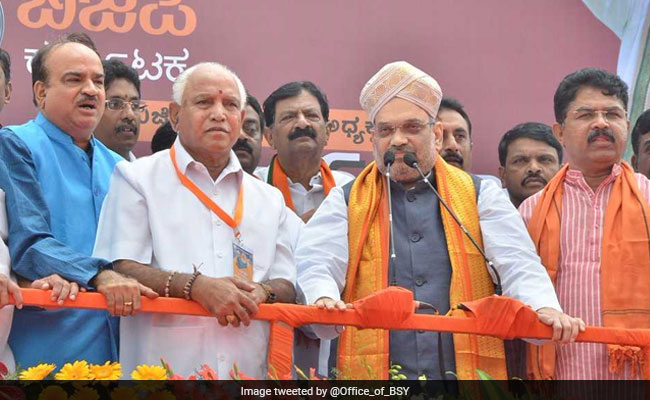 The stage is set for the Karnataka Assembly elections which is crucial for both the Bharatiya Janata Party (BJP) and the Congress. The BJP released the first list of 72 candidates for the state polls on Sunday.
Elections to the 224 seats of Karnataka Assembly will be conducted on May 12 and the results will be declared on May 15. Of the 224 assembly segments across the state, 173 are general, 36 reserved for the Scheduled Castes (SCs) and 15 for the Scheduled Tribes (STs).
Among the candidates are many of the party's 48 sitting or outgoing legislators from the state's northern, central and southern region, including Bengaluru, which has 28 assembly constituencies.
Prominent nominees are the party's chief ministerial face BS Yeddyurappa from Shikaripura, KS Eshwarappa from Shivamogga, Jagadish Shettar from Hubli-Dharwad Central, Basavaraj Bommai from Shiggaon, CM Udasi from Hangal, KV Hegde from Sirsi and B Sriramulu from Molakalmuru (reserved).
Only three women figure among the 72 contestants - Sashikala Jolle from Nippani assembly segment in the state's north-west region, Roopali Naik from Karwar in the coastal area and Poornima Srinivas from Hiriyur in central part.
Sashikala is re-contesting from the same seat, while Roopali is a former civic corporator in Bengaluru and Poornima is the party's women wing's secretary.
In the outgoing assembly, the BJP has 48 legislators, including four from the Karnataka Janata Party, a regional outfit, Yeddyurappa floated in December 2012 after he left the party owing to his removal as its first Chief Minister in the state following his indictment by the state ombudsman in the multi-crore mining scam that also rocked its first government in south India.
Sriramulu is the party's Lok Sabha member from Bellari reserved (ST) constituency in the state's northwest region, which has rich iron ore mines.
Among defectors who recently joined the party from the ruling Congress or the rival Janata Dal-Secular (JD-S) are Malikaiah Guttedar from Afzalpur and Subhash Guttedar from Aland in Kalaburgi district, Mallikarjun Khuba from Basavakalyan in Bidar district, BS Yatnal from Bijapur city in Vijayapura district and CP Yogishwar from Channapatna in Ramanagara district.
Yatnal, a former minister of state for railways in the Vajpayee government, re-joined the party ahead of the hustings.
Party's former state ministers S Suresh Kumar, V Somanna and Arvind Limbavalli are among the contestants from Bengaluru seats.
The committee met under the party's national president Amit Shah and among its members, Prime Minister Narendra Modi, Home Minister Rajnath Singh and External Affairs Minister Sushma Swaraj attended it at the party's head office in New Delhi.