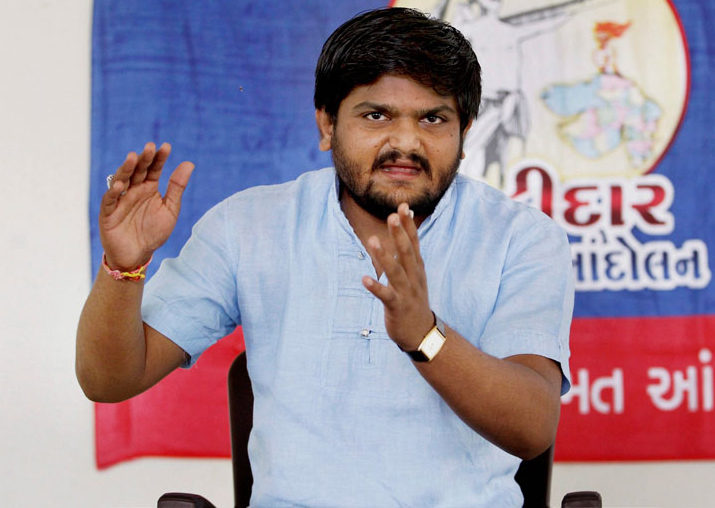 Dinesh Bambhania, disgruntled aide of Patidar quota agitation leader Hardik Patel, today accused him of forgery with compensation amount of Rs 81 lakh that were supposed to be given to the relatives of youth who were killed during protests demanding reservation in government jobs and educational institutions.
Dinesh claimed that the money was given by NCP leader Praful Patel but no one was informed about this. He demanded Hardik Patel to explain what he had done with the money.
Dinesh even claimed that Hardik had met Congress vice-president Rahul Gandhi and Sonia Gandhi's son-in-law Robert Vadra much before the dates of elections were announced.
He accused Hardik Patel of 'misleading' PAAS members about his 'secret meeting' with Rahul at a five-star hotel in Ahmedabad in October. Dinesh said that Hardik should explain what transpired at meetings with Rahul and Vadra.
"Despite being asked by PAAS leaders several times, Hardik never revealed what transpired in that meeting with Rahul Gandhi. Hardik even met Robert Vadra in Delhi. Yet, there is no explanation about it. Was there any secret deal with Vadra?" he said. 
Both the Congress and Patel had denied that he had a meeting with Rahul at a five-star hotel near the Ahmedabad airport in October. 
When Hardik was quizzed about Rs 81 lakh, he said, "When the person who had given the money is not raising any question, then who is Dinesh Bambhania to ask about it?" 
Further he denied meeting Robert Vadra and asked Dinesh to release CCTV footage of the 'secret meeting'. "If he (Dinesh) says he has CCTV footage, he is free to release it to the media."
Hardik said that Dinesh was a member of the PAAS core committee, which had met with leaders from both the BJP and the Congress. 
"It was he, who had gone to Delhi with the other members of the committee. I was never part of that team. So, how can I meet Vadra?" Patel wondered. 
"He (Bambhania) can even lie like (Prime Minister Narendra) Modi tomorrow and say that I had met (former Pakistani prime minister) Nawaz Sharif. I did not meet Vadra and so, there is no question of making any secret deal with him," he added. 
The first phase of elections in 89 constituencies on Saturday saw a 66.75 per cent turnout. The maximum voting (79.15 per cent) was seen in the tribal district of Narmada, followed by Tapi with 78.56 per cent, and the minimum (59.39 per cent) recorded in Devbhoomi Dwarka district.
The election in the remaining 93 constituencies in central and northern regions of the state will be held in the second phase on December 14. Counting of votes will take place on December 18.