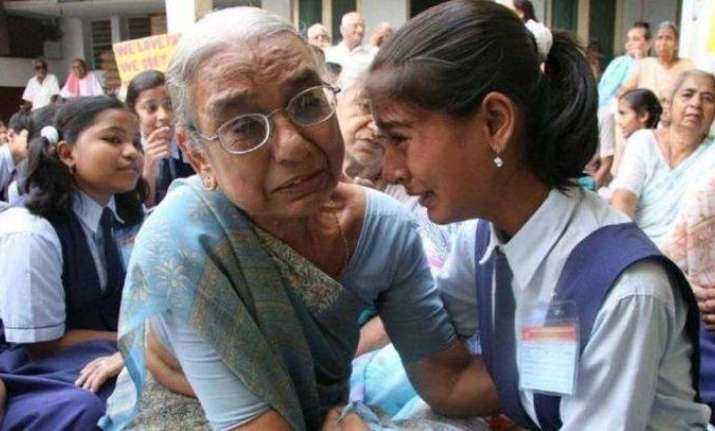 In a heart touching story, a girl found her missing grandmother on a school trip to an old age home. On seeing her grandmother, she couldn't control her tears and hugged her while crying. A picture of the girl hugging her grandmother and crying went viral on the internet.
A school organised a tour to an old age home and this girl found her grandmother there. When she used to ask her parents about the whereabouts of grandma, she was told that she has gone to meet her relatives. This is the society we are creating...#Heart_touching.. pic.twitter.com/fHRFVFAFyx

— Anita Chauhan (@anita_chauhan80) August 21, 2018
According to the viral post, the girl Bhakti kept asking her parents about her grandmother, but they always rested the question by answering that she has gone to some relative and will stay there, but when she looked at her grandmother in the old age home she couldn't control herself.
The post went so viral that it was even shared by the Indian Cricketer Harbhajan Singh, saying "Shame on such people". The post was also shared by many twitter users and the picture took the internet by storm as well as made the internet users emotional.
Shame on such people... https://t.co/I589oDJMqw

— Harbhajan Turbanator (@harbhajan_singh) August 21, 2018
Now, in an exclusive interview to India TV,  the girl named Bhakti reveals the real story behind the viral video. She said that there are several old age homes spread wide across India and, there are many people who come to old age homes on their own will. Most importantly, she said that her grandmother Damyanti went to the old age home on her own will.
Watch LIVE Updates here