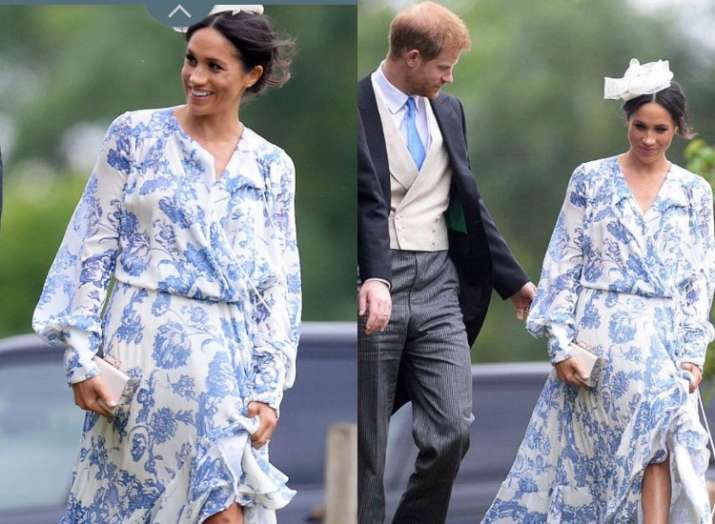 Suits fame actor Megan Markle has always been a fashionista. Whenever she makes a public appearance, people go crazy just by looking at her but looks like this time Markle's magic didn't work. The Duchess of Sussex, Meghan Markle, opted for a blue and white Oscar de la Renta wrap dress to attend the wedding of Prince Harry's cousin, Celia McCorquodale, and she definitely made heads turn but for all the wrong reasons.
While fans were expecting to see Meghan's astonishing look at the wedding, Twitterati was disappointed with the 'ill-fitted dress' she was wearing. While some called her dress baggy, others compared it with tablecloths and bedsheets. However, Meghan was all smiles at the wedding as she walked with the love of her life, Prince Harry, but netizens were in no mood to let her go without some trolls.
Here's what the Twitterati thought of the dress Meghan was wearing.
Gorgeous? Hardly...She has a beautiful figure and this dress was too saggy and baggy...Her knees were dirty and bruised...Did she fall?

— Nikki O (@nikkio) June 18, 2018
When you get a last minute invite to a wedding and don't have a hat so you grab the nearest thing and go#MeghanMarkle pic.twitter.com/LO2eWWXDzC

— Kate saw BohRhap twice (@R0gerMTayl0r) June 17, 2018
How does Meghan Markle manage to often look like a sack of potatoes #baffled

— Not a Done Deal #stopbrexit (@CareyKerrry) June 17, 2018
Beautiful but I have to agree with others the dress she had on look to big on her.

— Janine Sylve (@jpsylved) June 18, 2018
No this is an awful awful awful look. The dress is waaaay too big & sloppy. Still not sure what landed on her head but soooo not a good look

— Dane Hill (@dmhll9) June 17, 2018
Oh no sorry #MeghanMarkle this is not you 😢😢way too big!! Where has your lovely style gone ? pic.twitter.com/rr7uuQLpen

— rattycastle (@rattycastle) June 17, 2018
Meghan Markle's dress really aged her. It's not worth being a Duchess if you're committing to a life of ugly clothes.

— Jemma Jessica (@JemmaJessica) June 17, 2018
Meghan Markle's tablecloth dress is $5000? That's so sad.

— Natalie (@sunchick116) June 18, 2018
This "off the peg" Oscar de la Renta dress is NOT supposed to be form fitting, BUT with this stated, this dress is NOT appropriate for a high society British wedding. It is much too casual. British high society have certain mores, including wedding look.

— Gabrielle Bourne 🇬🇧🇺🇸 (@gabriellebourne) June 18, 2018
Doesn't Meghan Markle have a hair stylist for god sake?

— Natalie (@sunchick116) June 17, 2018
This is not the first time but since Meghan has entered the royal family, she has been under constant scrutiny for her fashion choices. Earlier, she was trolled for sporting an "inappropriate" dress and "breaking the protocol" at Trooping the Colour 2018, this time it's at the wedding. Her constant comparisons with sister-in-law Kate Middleton also work as the catalyst to all the trolls.