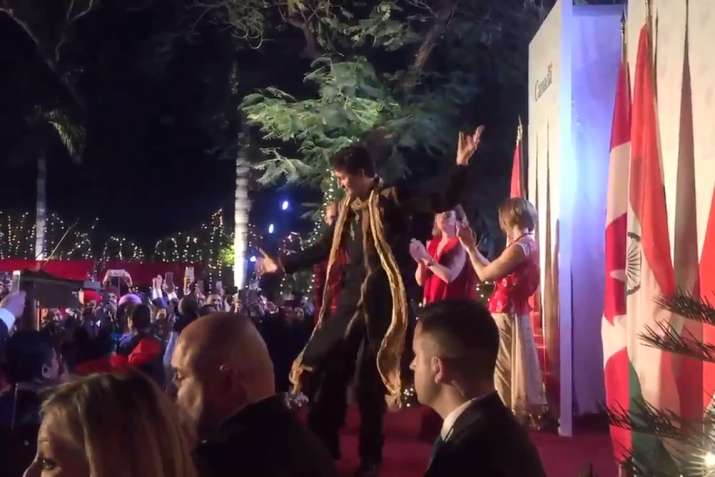 Canadian Prime Minister Justin Trudeau has stormed the social media for more than once for his unusual antics. The handsome politician steps out of his league and makes headlines every now and then. Following his usual antics, Justin Trudeau showed off his Bhangra skills at a dinner in Delhi on Thursday evening. On the stage at the event at Canada House in the national capital, Trudeau's charming antics sent the social media into tizzy.
The Canadian PM broke into an impromptu Bhangra and it was recorded in a video which went viral on social media, as obvious as it seemed. He was dressed in a black sherwani and his wife Sophie Trudeau was also accompanying him. The entire setup was decorated like some big fat Punjabi wedding and his dance added the cherry to the icing.
Not that his Bhangra was on point, but the way he tried the Indian traditional dance form, he surely did get some cheering and whistles from the crowd.
The video was taken by journalist Rohit Gandhi and shared by him on his Twitter account. Soon after he posted the video, it became viral on the internet. It got the internet divided. Some appreciated Justin Trudeau's effort to blend in the Indian traditions while others made fun of his half-aced Bhangra. The clip now boasts of 101,000 views on Twitter with more than 600 retweets.
Canadian PM @JustinTrudeau makes an entrance at the Canada house in New Delhi. Truly in the spirit of India. @DemocracyNewsL pic.twitter.com/ph19O7ysB4

— Rohit Gandhi (@rohitgandhi_) February 22, 2018
Let's see what internet has to say about this video.
Some believed that Trudeau is trying to impress Sikh's in order to get votes.
Trudeau is doing this for the Canadian Sihks votes

— MS JACQUIE🇨🇦 (@jacquie_1959) February 23, 2018
Can someone tell him Indians don't live like they are in a Bollywood set 24x7 @vidurkhanna

— Atirav Kapur (@atirav) February 22, 2018
Some Canadians even apologised on his behalf for his 'embarrassing' behaviour  in public.
Speaking on behalf of all Canadians, I am SO sorry for his behaviour on his vacation. His cultural appropriation and embarrassing behaviour is making us all cringe so hard.

We're very sorry.

@CFRASnow @AndrewScheer @theJagmeetSingh

— 🇨🇦Marek Tymowski🇲🇨 (@MarkTymowski) February 22, 2018
February 22, 2018
But there were many who appreciate Justin Trudeau for his efforts, no matter how imperfect his Bhangra skills were.
You don't have to apologise. We indians may not dress up like Bollywood but we do behave like one(i mean drama and all). Majority of us appreciate his efforts. Thank you for the love you guys spread 💗.

— Khaleesi (@Kpoptra43023802) February 23, 2018
Justin Trudeau trying to get a role in Bollywood? That's what some Twitterati has to say.
Are you serious @JustinTrudeau? Are you trying to get a feature role in a Bollywood film?

— Don Jacyshyn 🇨🇦 🇺🇦 (@djacyshyn) February 22, 2018
Justin Trudeau landed in India last week and visited Taj Mahal, Sabarmati Ashram and also met some Bollywood celebrities including Shah Rukh Khan and Aamir Khan. His fashion choices in India are heavily influenced by Bollywood, as many can see. He was spotted sporting heavy sherwanis and kurtas while his wife wore saris.
On Friday, he will be meeting Prime Minister Narendra Modi in the national capital.