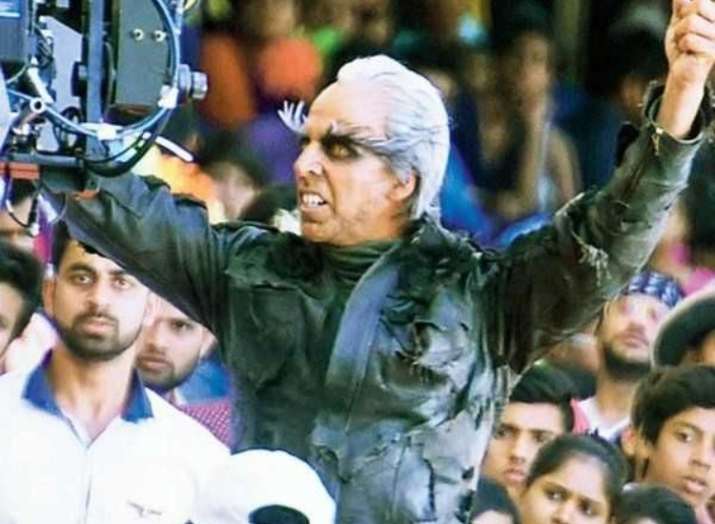 South superstar Rajinikanth and Bollywood Khiladi Akshay Kumar's much-awaited movie 2.0 has already broken the internet. Fans went crazy over the teaser of the movie that surfaced on the social media on Monday morning as, within a few hours, the teaser garnered over million views. While some fans were head over in heels in love with the superstars and their crazy stunts, a major part of the viewers were left unhappy with the VFX used in the film. Furthermore, Akshay Kumar fans have expressed disappointment over the fact that Khiladi Kumar just had a very small appearance in the one-minute-30-seconds long video.
Tweeple couldn't help but come out with the most hilarious memes on the teaser considering the video gave a lot of reasons to do it. From Akshay Kumar's presence in one frame to Rajinikanth's dialogue, there is a meme on everything from the teaser going viral on the internet.
Here are some of the best of them. Have a look!
Sir musically users ke dimaag me kya chalta hai? pic.twitter.com/T4EM4Budzo

— Rishabh Srivastava (@AskRishabh) September 13, 2018
sochta hu ki wo kya se kya ho gye
kitne masum the dekhte dekhte @akshaykumar #2Point0 pic.twitter.com/9Y8oySbeHt

— Santosh (@SuperADianSP) September 13, 2018
Interaction with relatives:

Pic 1: Throughout the year
Pic 2: On Result day pic.twitter.com/GmqsDtCsJD

— Bollywood Gandu (@BollywoodGandu) September 13, 2018
Sad story of @akshaykumar and his fans#2Point0Teaser pic.twitter.com/U7w861NZ5N

— 🔥🔥 (@Shubh_ad) September 13, 2018
#WorldCup2019 #WC19 pic.twitter.com/sB5MmZIswr

— Rishabh Srivastava (@AskRishabh) September 13, 2018
Scenario now at home 😂😂😂#2Point0Teaser #2point0 #Rajinikanth #VFXWonder2Point0TsrTmrw9am #2Point0TeaserDay #2Point0MODE @rajinikanth @soundaryaarajni @RIAZtheboss @mayavarathaan @rajinifans @ArBharaty @ItisVin @RamnadLegend @subbusurya @MrIanMalcolm @imAnish30 pic.twitter.com/rOQtLFxaz1

— Jijesh_RJ (@jijesh_rj) September 13, 2018
#2Point0Teaser

EXPECTATION vs REALITY pic.twitter.com/LTmNZVEqMn

— Devil V!SHAL ᴮᴴᴬᴿᴬᵀ (@VishalRC007) September 13, 2018
Close enough? #2point0teaser #Chakrikanth pic.twitter.com/IufTFy2mWI

— Bade Chote (@badechote) September 13, 2018
If my mom had superpowers, this is the first thing she'd do. #2Point0Teaser pic.twitter.com/YgNWb4ST5y

— Bollywood Gandu (@BollywoodGandu) September 13, 2018
This frame reminds me of Mahabharata. Chakra in the middle of war-field. #2Point0Teaser pic.twitter.com/vnJg36sRzY

— Ian Malcolm aka 'K A A L I' (@MrIanMalcolm) September 13, 2018
Just watched 2.0 teaser and I want to crawl under a rock and hide there. Please someone do us all a favour and burn the reel.

— Siddhu (@cheekyponnama) September 13, 2018
The science-fiction film written and directed by S. Shankar is India's most expensive film to date and the second-costliest film in Asia. It is also India's first film to be shot directly with 3D cameras. Usually, films are shot using 2D cameras and converted into 3D in the studios. Thus, it is understandable why it is 2018's most anticipated film, which will hit theatres on November 29 this year.
For latest stories breaking the internet, check out our BUZZ section!