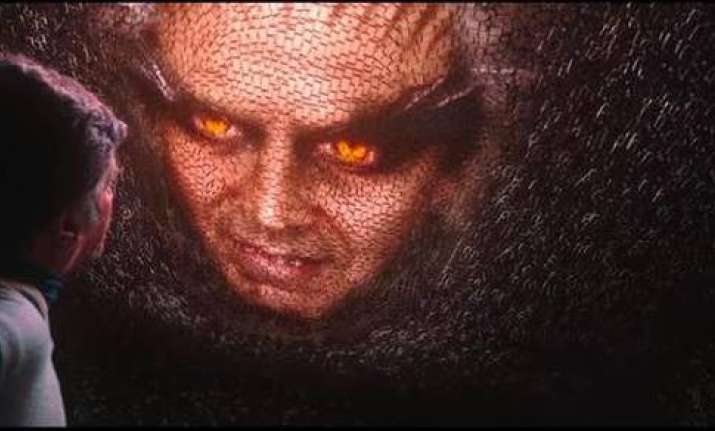 The much-awaited 2.0 teaser hit the internet on Thursday and, created much buzz everywhere. In Shankar's 2.0, superstar Rajinikanth and Bollywood star Akshay Kumar are seen having a face-off in the VFX spectacle.  Die-hard fans went crazy as soon as Khiladi Kumar released the much awaited 2.0 teaser on the auspicious occasion of Ganesh Chaturthi. Akshay Kumar would be donning the role of Dr. Richard who is supposedly the antagonist, with Superstar Rajnikanth once again in dual roles of Chitti and Dr. Vaseegaran.
However, several netizens are left unhappy with the VFX used in the film. Furthermore, Akshay Kumar fans have expressed disappointment over the fact that Khiladi Kumar just had a very small appearance in the one-minute-30-seconds long video. Have a look at 2.0 Hindi teaser.
Read Twitter reactions here
My honest question to everyone. Donn know abt VFX. but where is Akshay Kumar in the 2.0 teaser !? #2Point0TeaserDay @DharmaMovies @BrijwaSRKman @5555Lucky @BlogDrive @PandilwarA

— Durga Dash (@Durga_EthanHunt) September 13, 2018
Just watched 2.0 teaser and I want to crawl under a rock and hide there. Please someone do us all a favour and burn the reel.

— Siddhu (@cheekyponnama) September 13, 2018
Wait is over but only a glimpse of Akshay Kumar apereance. https://t.co/DExqfm2yQp

— gaurangi sagar (@gsag25) September 13, 2018
The teaser is below average and Akshay Kumar was just in one frame says a lot about his stardom.

— Shoaib (@50Shades0fMere) September 13, 2018
2.0, the costliest movie ever made in Indian cinema is gearing up for release this year. It is reported that the VFX work in the Rajinikanth movie has consumed most of the film's budget. Director Shankar is aiming to set a benchmark with the film's VFX work.
Rumours state that the movie's VFX work has amounted to Rs 550 crore! Around 3,000 VFX technicians from across the world has worked on this project.
The movie is also touted to be 'India's First 75 Million Dollar VFX Wonder'.
After a long delay, the film finally locked a 29 November release date which was confirmed by the director.