Follow us on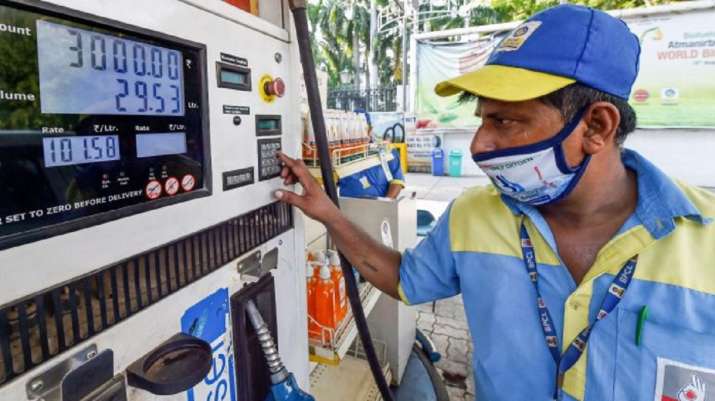 Prices of petrol and diesel were hiked again on Thursday. While petrol and diesel prices were raised by 35 paise and will be sold at Rs 106.54 per litre and Rs 95.27 per litre, respectively, in Delhi today, retailers will have to shell out Rs 112.44 for a litre of petrol and Rs 103.26 for a litre of diesel in Mumbai.
In Kolkata, the petrol will be sold at Rs. 107.12 per litre and diesel will be sold at Rs. 98.38 per litre. The prices in Chennai on Thursday stands at Rs. 103.61per litre for petrol and Rs. 99.50 per litre for Diesel.
The rising fuel prices in the country are not going to come down immediately. The Central government is in talks with several oil-exporting countries on the issue of supply and demand of oils but there is no possibility of immediate relief in prices.
According to reports, the government may opt for an excise duty cut on petrol and diesel, for the first time since the outbreak of the pandemic. By doing so, the government aims to prevent rising crude oil prices from adversely affecting the retail price of these two commonly-used products.
Petrol and diesel prices have already reached historic high levels across the country and have risen on most days for past one month, burning a larger hole in consumers' pockets. Rs 2-3 per litre cut in excise duty on petrol and diesel might be announced as a shield to prevent a further spike in prices of auto fuels. The announcement may be made ahead of Diwali to sweeten the festivities for consumers who have bore the brunt of rising fuel prices with petrol rates increasing by more than Rs 30 per litre since January 1 while diesel prices rose almost Rs 26 per litre.
If implemented, the full-year revenue implications of Rs 2 per litre cut in excise duty on the two products would amount to over Rs 25,000 crore. Any higher cut, could take annual revenue implications to over Rs 36,000 crore. However, as more than half of current financial year (FY 22) is already over, the revenue forgone may be much smaller.
ALSO READ: ​Petrol, diesel prices hiked across metro cities. Check revised rates