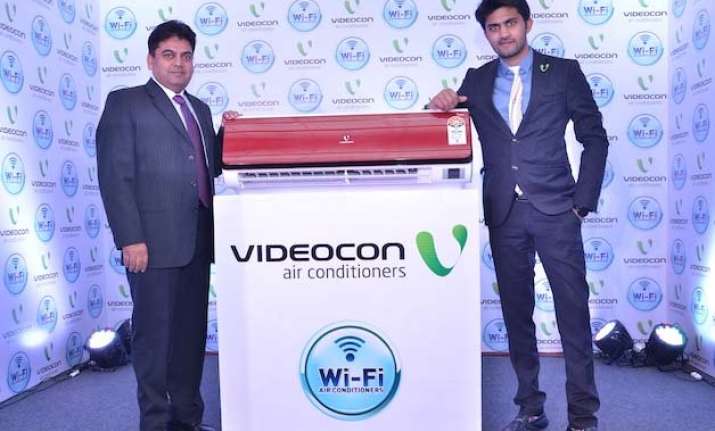 Mumbai: Home-grown consumer durables major Videocon has launched its first ever Wi-Fi AC range for the Indian market. The new ACs can be controlled from anywhere in the world using a smartphone app.
Videocon claims that its Wi-Fi enabled ACs have features that make it the most energy efficient air conditioner range in the country. With unique Precise Energy Meter, the ACs keep a tab on the energy usage and savings. Using the 'Away Mode' feature, these ACs track the Smartphone's current GPS location and accordingly switche them off to conserve energy.
In addition, the ACs adjust voluntarily to the outdoor climate using the innovative Hourly Weather Feed feature, thus delivering focused cooling.
"Videocon is committed to bringing the latest technology at a great value to all its customers, and the launch of the new Wi-Fi AC range is another step in the right direction. With a vision for connected homes, we at Videocon applied out of the box thinking to create an AC with a revolutionary technology allowing it to be controlled using a smartphone. We hope to keep delighting our customers with the most innovative technology by adding premium value to our products," said Akshay Dhoot, Head, Technology and Innovation, Videocon Group, during the launch of the new AC range.  
 
"These days, consumers look for customized services and devices that would simplify their lifestyle. With the latest Videocon Wi-Fi AC, the working mother sitting in office has the power to control the AC temperature of her room, so that her child back home gets a sound sleep. Similarly, for a working professional, after spending a stressful day at work, can happily switch on the AC of his room while driving back, so that he can come home to a comfortable environment and unwind. These Wi-Fi ACs are no more a dream, it is indeed the dawn of a new era!" Dhoot further added.
The new Videocon AC utilizes the Wi-Fi network of one's home to connect effortlessly with a smartphone. Its strong connectivity allows sharing and receiving signals on any 2G, 3G and 4G devices.
The ACs have a stylish body and exhibit a special LCD display for a wider viewing angle and detailed operational  information.
Videocon Wi-Fi AC range comprises of four new models that come in two attractive colours, white and red. These ACs comply with BEE star ratings and possess 5 stars, reflecting its high-energy efficiency capabilities. These are available in 1 ton and 1.5ton. Videocon will be making the entire Wi-Fi range available across the country by the end of this week.