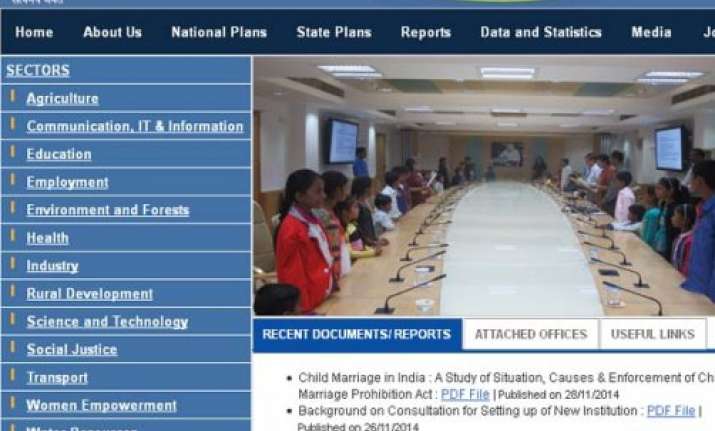 New Delhi: The Narendra Modi government began the New Year replacing the age-old Planning Commission with a new institution named NITI Aayog (National Institution for Transforming India), where the prime minister would continue as chairperson of the revamped body.
"The institution will serve as a 'think tank' of the government - a directional and policy dynamo. NITI Aayog will provide governments at the central and state levels with relevant strategic and technical advice across the spectrum of key elements of policy," a union cabinet release here said.
Apart from the prime minister as chairperson, the NITI Aayog will have a governing council comprising the chief ministers of all the states and the lieutenant governors of union territories.
"Regional Councils will be formed to address specific issues and contingencies impacting more than one state or a region. These will be formed for a specified tenure," the statement added.
Elaborating on the rationale for the revamping the planning body as the many forces transforming India, the government said the industry and service sectors have developed and are operating on a global scale now.
"To build on this foundation, new India needs an administration paradigm in which the government is an 'enabler' rather than a 'provider of first and last resort'. The role of the government as a 'player' in the industrial and service sectors has to be reduced," the statement said.
The New Year's day move follows the promise that Prime Minister Narendra Modi made to the nation on the last Independence Day.
Earlier this month, in a meeting with chief ministers here, Modi said the Planning Commission should be replaced by an organisation that thinks creatively, strengthens the federal structure, and is able to energize governance at the state level.
Referring to his predecessor Manmohan Singh's remarks that the body had no futuristic vision in the post-reform period and must be reinvented to remain more effective and relevant in the present situation, Modi said there is a need to "develop a new mechanism, that plans according to India`s strengths, empowers states, and brings on board all economic activity, including that which happens outside the government."
Invoking the spirit of "cooperative federalism", Modi said states should have a key role in the new body that will replace the Planning Commission set up in 1950.
Congress chief ministers have opposed the government's move to replace the Planning Commission with a new Ayog.
There is a strong sense of apprehension and uncertainty among smaller states following proposal to wind up the Planning Commission, Uttarakhand Chief Minister Harish Rawat said here following a meeting of the chief ministers.