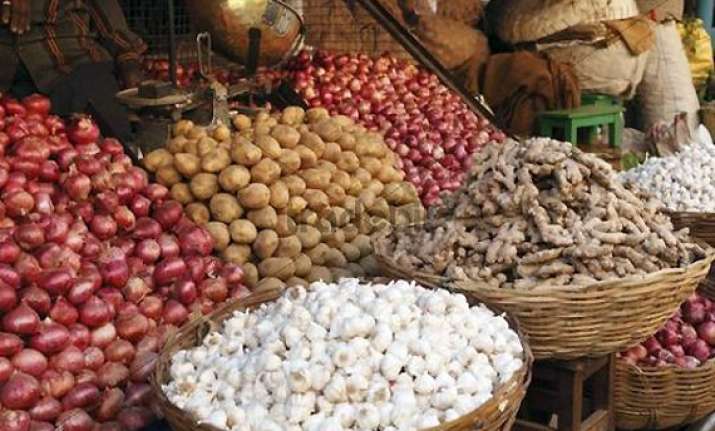 New Delhi, Jan 12: Substantial fall in prices of vegetables, including potato and onion led to food inflation slipping to minus 2.90 per cent on December 31 -- in the negative zone for the second consecutive week.

The data showing drop in prices of food articles of common-man was released today, less than two weeks before the Reserve Bank is set to review its monetary policy, amidst expectations of a cut in interest rates.

Food inflation, measured by the wholesale price index (WPI) was over 19 per cent in the corresponding week in the previous year. It was minus 3.36 per cent in the previous week-ended December 24,2011.

The maximum drop in prices was witnessed in onion which became cheaper by 74.77 per cent year-on-year during the week under review, while potato  was down 31.97 per cent. Overall, vegetables became 49.03 per cent cheaper while wheat also fell by 3.35 per cent.

A happy  Finance Minister Pranab Mukherjee said, "Food inflation is still negative... There is  a declining trend,headline inflation should be 6-7 per cent by end March."

Fall in food prices has been substantial since the first week of November, when food inflation stood at double-digit.

"We expect food inflation to remain negative for next 1-2 week and then turn positive," Chief Economic Advisor Kaushik Basu said.

The general inflation for November is 9.11 per cent and the data for December will be released January 16.

According to experts,drop in food prices will give leeway to RBI to go in for eversal and cut interest rates in the near future.

After raising interest rates by 375 basis points since March,2010, the RBI gave a pause in December.It is scheduled to announce next policy review on January 24.

However, prices of pulses were up 14.72 per cent, milk 10.79 per cent and egg, meat and fish 5.22 per cent year-on-year.

Fruits too were dearer by 9 per cent, while cereal prices were up 2.03 per cent.

Basu said the drop in food inflation would help bring down headline inflation sharply.

"We are expecting a sharp dip in inflation over next two months. It is gradually going in the manageable territory," he said.

Experts attribute the decline in food inflation to the "high base" of the previous year and to good kharif output.  Food inflation was over 19 per cent in the same period last year.

They said while headline inflation is likely to cool in next few months, there is still concern over a weak rupee and its impact on fuel and manufactured products.

Inflation in the overall primary articles category stood at 0.51 per cent during the week ended December 31, as against 0.10 per cent in the previous week.