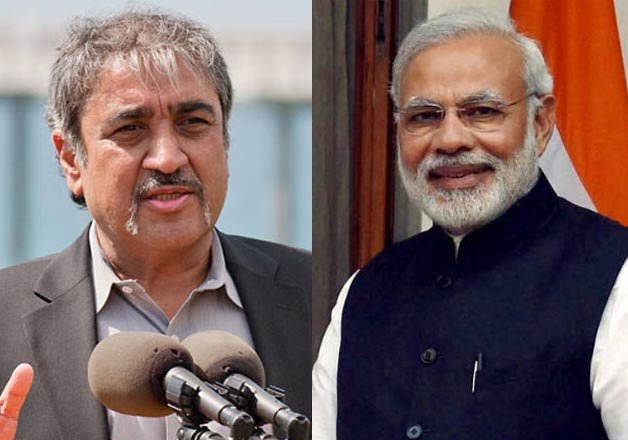 New Delhi: The 'Make in India' slogan seems more nationalistic than realistic and adequate infrastructure and logistics and properly-tuned bureaucracy are needed to make the strategy real, says the Indian-origin chancellor of a leading US university.
In an interview, University of California Chancellor Pradeep K Khosla, who was in India, speaks on a range of issues including the NDA government's flagship programmes like Make in India and startups. Excerpts of the interview .
What is your experience and understanding about the slogans 'Start up India, Make in India'?
I have to tell you a little story. Recently I was standing outside a Pan-IIT meeting and I saw 10-12 young students all in their last year or so ready to graduate. So I stop those guys and say, it is so good you will graduate, but who will you go and work for?
Not one, not even one of them named any company that you know of. Each and every one of them wanted to do a start-up.
At that time something occurred to me that there is something fundamentally changing in this country and what was changing was that especially in the IITs was this notion of a can-do attitude where you did not have to work for anybody you could build your own start up, build your own company, get your own wealth. I am really bullish of the start-up strategy in India.
So are start-ups now managing to distribute wealth in India?
So when I was growing up that was long time ago, a few families, really a handful controlled all the wealth in India.
I look back now most of the people I have met have made their money in the last 15-20 years, that is the power of information technology, how it has transformed the country, generated wealth spread wealth, and distributed wealth.
More people today can afford more things than what they  could when I was growing up and I was in a middle class family. What I could afford then is what a poor person can afford today.
There is this talk of 'Make in India' and a lot of people say you can't make in India till you discover or invent in India. You are a scientist, what do you think of that?
I think there is some truth to that, to understand that you have to look at for example China. China became a low cost manufacturing hub especially for electronics some 20-25 years ago. But China just did not stop there, it then invested in its universities. It also invested in research.
Today China is the number two producer of research after the US in the world. In India that is not the case, India never built a manufacturing base in the broad sense of the term. I think 'make in India' makes some sense but the slogan seems more nationalistic rather than realistic because you need to ask yourself, do we have the infrastructure, the logistics, the bureaucracy tuned properly to create the make in India strategy real.
What is your opinion on 'Free Basics' being provided by Facebook among others?
No, a 'walled garden' is not necessarily a good idea, but free Internet is a good idea. If you can imagine where there is WiFi across the whole country, and everybody has access to WiFi and its free that would be real game changer. But it has to be free access, open access without censorship and without limitation.
You are an expert on cyber security, should people like me be worried when I indulge in cyber commerce?
Yes and no. You should be worried. Cyber security is a really-really big issue so for a consumer like you and I what we worry about is of security where our identities could be stolen or where our credit card or financial information can be stolen, I think this where consumer security stops. But as country you worry about espionage, you worry about criminal gangs, crime rings and that is a more complex part of cyber security.
What advice do you have for India?
My advice is that there is no notion of one hundred per cent cyber security, never, it is impossible, we know that. You can always be a step ahead of the adversary or the enemy.So if you are country you have to figure out who is your enemy and be a step ahead, if you are an individual then you need to figure out how you will safeguard your financial information, your biometrics and a whole bunch of other information.
You are specialist on drones and unmanned aerial vehicles (UAVs). So are they useful in the economy and what do you think about its use in wars?
They are a game changer in the economy, I have zero doubt about that in my mind. In the year 1994-1996, I used to be a program manager at the Defense Advanced Research Projects Agency (DARPA) in US and at that time one of the things we used to worry about is whether a drone will ever be allowed to fire a weapon. Now it is common day occurrence. I think drones gave countries a strategic capability that avoids loss of life.
Earlier combat was thought of as hand to hand combat, there is now a strategic edge in one country over the other in drone based wars.
Do you think India should also develop its own drone war capability in a big way?
I think so. India should develop drone technology and be at the cutting edge of that technology in a more broad sense than it is right now.
Are you excited about India?
Actually, I am really excited about India, I am very bullish about India. In spite of all the things you see around political, social, cultural, philosophical, I think India is a great country, it is on its way to achieving greatness all over again.
But, we need to be careful, that we don't think about our past as having the thought process of the past as having been instantiated in reality those were thoughts now we need to instantiate them in reality. I am also very impressed by Prime Minister Narendra Modi on his speeches and his command over the language and his thought process.