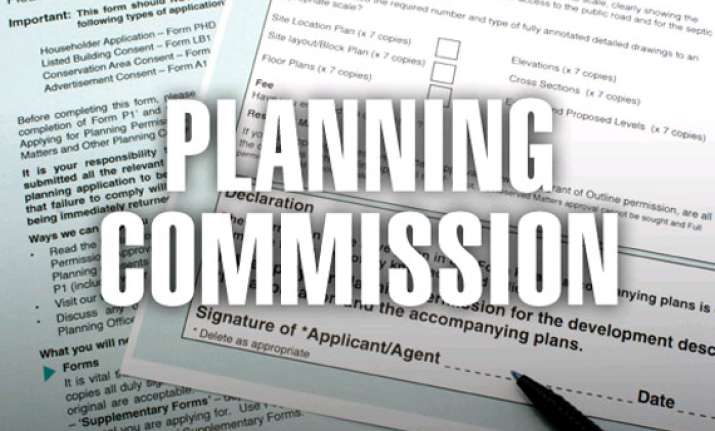 New Delhi: The Planning Commission's internal meeting on Wednesday, to be headed by Prime Minister Manmohan Singh, may not suggest any cut in 8% annual average growth target for the 12th Plan though the economy performed below average in the first two years of this period.
"The Planning Commission may refrain from suggesting any cut in the annual average growth target of 8% in the 12th Plan during the internal meeting scheduled on Wednesday," a source said, adding that it would deliberate on the draft mid-term appraisal document for the 12th Plan.
According to the advance estimates of the Central Statistics Office (CSO), the economy is expected to grow at 4.9% in 2013-14. The economy grew by 4.5% in 2012-13, the first year of the five-year Plan period.
As regards the current fiscal, the economy is projected to grow at 5.5%. In order to achieve annual average growth of 8% in the 12th Plan period, the economy would have to expand at over 12% in 2015-16 and 2016-17, which is not feasible.
Earlier, the full Planning Commission had cut the annual average growth rate of the 11th Plan to 8% from targetted 9% in the mid-term review of the five-year long policy.
The mid-term review of 12th Plan will be conducted sometime in the end of this year and the onus of revising the growth target will rest on the new government to be formed after general elections.
The meeting, however, will put on record the achievements and initiatives taken in the last decade, besides deliberating on the draft mid-term appraisal document for the 12th Plan.
According to sources, the aim of the meeting, the last under the chairmanship of Singh, is to put across his message to the opposition about the UPA's efforts to improve economic situation in the country.
The term of the Commission is co-terminus with the government. Thus the new government after the elections will constitute the new Planning Commission.
According to sources, the Prime Minister's Office has asked for comparative data on key economic and social indicators since 1984 so that a broad comparison of UPA's decade-long regime could be made.
Besides Deputy Chairman of the Commission Montek Singh Ahluwalia, the members of panel are B K Chaturvedi, Saumitra Chaudhuri, Syeda Hameed, Narendra Jadhav, Abhijit Sen, Mihir Shah, K Kasturirangan and Arun Maira.
Minister of State for Planning Rajeev Shukla will also attend the meeting.