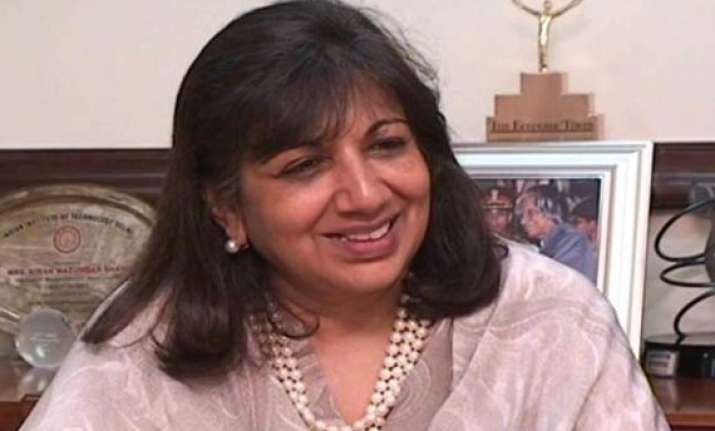 Bangalore, Oct 14 : Europe's wealthy have asked to be taxed more, but a top Indian technocrat has put question marks over the ability of the government in India doing a good job with such funds if a law was passed in this regard. 
"My view on taxation levels in India is that it is at a reasonable level and I think what is more important is how the government uses taxpayers' money," said Kiran Mazumdar-Shaw, the Chairman and Managing Director of Biocon, India's largest biotech company by revenue, in an interview to PTI here. 

"There is little confidence in this as the government is perceived to be doing a sub-optimal job. I would rather see wealth being invested in genuine CSR (corporate social responsibility) or developmental activities with IT exemption on such expenditure," she said.

Mazumdar-Shaw, a Padma Shri and Padma Bhushan awardee who has been named among Time Magazine's 100 most influential people in the world, was asked about her views of Europe's wealthy recently asking to be taxed more and if she thought top earners in India should follow suit.

She said tax slabs are always proportionate to wealth/income, adding that most taxation levels on high incomes range between 30-50 per cent, which she thought is fair.
"The offer to have taxes enhanced by Europe's wealthy is certainly noble but I think we need to understand where this comes from", Mazumdar-Shaw, a successful technocrat of global standing, said.

"Evidence indicates that most wealthy folk pay very little tax as they find tax shelters in various forms to retain as much of their wealth as they can. I am sure if Europe's wealthy actually paid 50 per cent of their income as tax, they would protest".

European wealthy elite, echoing a call by billionaire investor Warren E Buffett, had recently urged their governments to raise their taxes or enact special levies to help reduce growing budget deficits.
On Indian corporates (less than 0.1 per cent of the total population) controlling more than 20 per cent of the national income, much more than 50 per cent of the people who depend on agriculture, Mazumdar-Shaw said this is true the world over. 
"I don't think we should feel guilty of earning 20 per cent of the national income. Look at what corporates have done to raising employment, increasing the middle class population, GDP growth etc. Are you blaming corporates for being successful? This has not happened at the cost of farmers I can assure you", she said.

Farmers, Mazumdar-Shaw said, have remained impoverished because they have not accessed new technologies including IT to improve their incomes."Our agricultural productivity remains one of the lowest in the world, our agri-supply chain is also one of the most inefficient in the world", she said. "The Government is dragging its feet in terms of reforms in the Retail Sector -this can only help the agricultural sector in the long term like it has the world over".