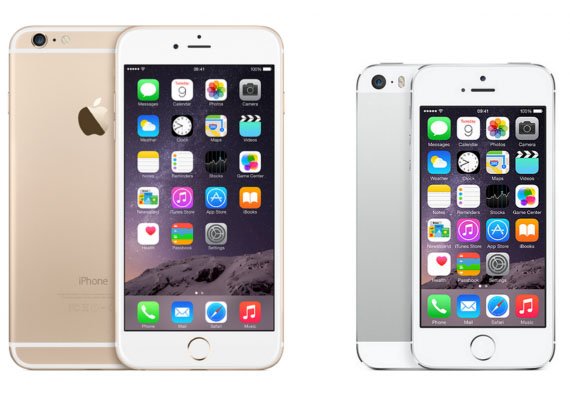 New Delhi: The iPhone 5s is now yesterday's iPhone and the new iPhone 6 and iPhone 6 Plus are here. The world is excited. But should you be?
The new iPhone 6 is bigger, faster and has plenty of upgraded features over the outgoing iPhone 5s, but is it worth upgrading for? Here's a close look:
Design/Body
iPhone 6: curved aluminium, gold or light/dark silver, 6.8mm, NFC
iPhone 5S: Aluminium, 7.6mm thick, gold or light/dark silver
First of all, the basic construction of the phones hasn't changed much. Both the iPhone 5S and 6 have aluminium backs and toughened glass fronts.
Angular is out, and round is in. The sharp edges of the iPhone 5S are now replaced by much curvier lines.
The iPhone 5s measures 123.8mm x 58.6mm x 7.6 mm and weighs only 112g. However, with a screen size to accommodate, both versions of the new iPhone 6 are larger, but flatter. The iPhone 6 measures 138.1 x 76.0 x 6.9mm and weighs only 129 g.
The iPhone 6 is also a fair bit slimmer than the old model at 6.8mm to the iPhone 5S's 7.6mm – an impressive feat considering it's a much larger 4.7in handset.
In terms of body materials, the iPhone 5S was made of anodised aluminium and has diamond-cut chamfered edges. Its full metal body is incredibly tough and feels fantastic to hold. However, the iPhone 6 comes with an anodised aluminium rear panel, a curved glass front and a stainless steel Apple logo on the back of the phone. According to Apple, the iPhone 6 should feel like one continuous surface. Apple says both versions are covered with "ion-strengthened glass," to make the iPhone 6 less susceptible to drops and scratches.
Both the iPhne 5S and the new iPhone 6 share the the same TouchID sensor, the new model offers NFC, which lets you make wireless payments with an iPhone 6.
Clearly, both the devices are premium products, but the iPhone 6's edges score over the iPhone 5S design.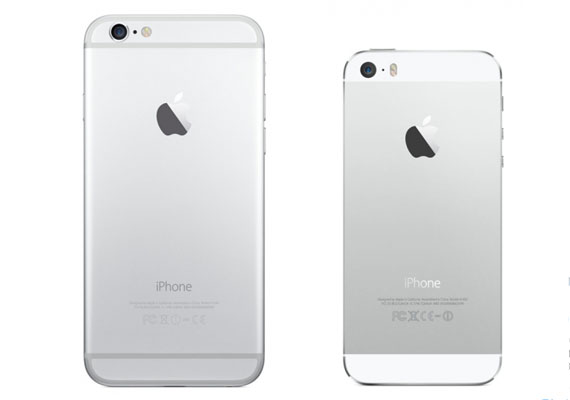 Screen
iPhone 6: 4.7-inch 1334 x 750, "Retina HD" LCD with Ion strengthened glass, improved polariser
iPhone 5S: 4-inch 1136 x 640 IPS LCD
The latest iPhone has got a slightly large screen – bump from 4 inches to 4.7. The larger version, however, comes with a 5.5-inch display. A 4.7-inch screen size is considered to be ideal given that it's easy to reach all parts of the screen no matter how big or small your hands are.
With the new devices, Apple has introduced its brand new Reachability feature – one-handed mode for the new larger iPhone 6 and iPhone 6 Plus displays. This new gesture control makes the entire screen slide down to the lower half of the display, so you'll always have the top of the screen within reach at all times.
"Simply double touch the Home button and the entire screen shifts down closer to your thumb. And to easily navigate Safari or Mail, swipe left to right across the screen to go backward, or swipe right to left to go forward. With the new continuous surface of iPhone, all your gestures now feel smoother than ever," the company said.
Both the phones have IPS LCD screens, as used in iPhones for years. And to compensate for the larger screen real estate, the iPhone 6 has a 1,334x750 resolution while the iPhone 5s has a smaller 1,136x640 resolution. It's 38 per cent more pixels but sharpness and clarity of the display remains the same as both phones have a pixel density of 326PPI (pixels-per-inch). This gives them both Retina-class displays.
The iPhone 6 should have a typical contrast ratio of 1,400:1 compared to the iPhone 5s's contrast ratio of 800:1.
The company also says the iPhone 6 comes with a "dual-domain" pixel structure, which improves viewing angles.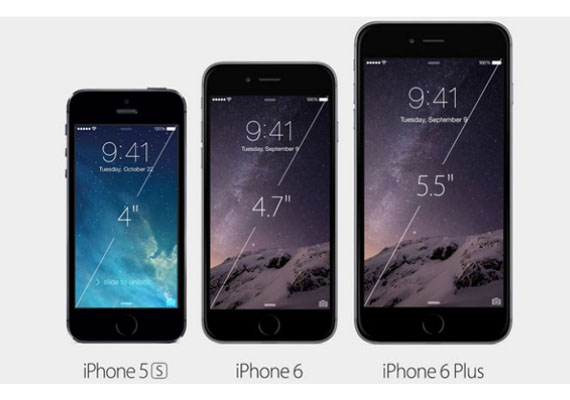 Camera
iPhone 6: 8MP camera, 1/3.06-inch (or similar) sensor, true-tone flash,f/2.2 aperture dual-LED flash, phase detection
iPhone 5S: 8-megapixel 1/3.06-inch sensor, f/2/2, dual-tone LED flash
The iPhone 6 has a 8-megapixel camera with a f/2.2 aperture and 1.5µ pixels, just like the last model, but the sensor is now upgraded. The "next generation iSight sensor" has what Apple's calling "focus pixels." Those pixels offer DSLR-like phase detection autofocus, which is twice as fast as the 5S. It's now easier to take high-dynamic range (HDR) photos. Both iPhones can take HDR shots with a single click of the shutter, rather than a series of shots as before. Apple has also brought back True Tone Flash, which, as before, uses two different LEDs to attempt to match the color temperature for better flash photos.
While the iPhone 6 has digital image stabilization, the iPhone 6 Plus features far improved optical image stabilization.
The devices offer better video taking capabilities. The smartphones can shoot 1080p video in 30 or 60 frames per second, and there's a fairly stunning 240fps slow-mo video mode, too.
The iPhone 5s's camera, by comparison, is only able to shoot Full HD video at 30fps and slow-mo video at 720p at 120fps.
Another improvement comes in form of front FaceTime camera which apparently lets in 81 per cent more light for better shots, and has more selfie-centric features. These include one-shot HDR and a burst mode. Selfie. Tastic.