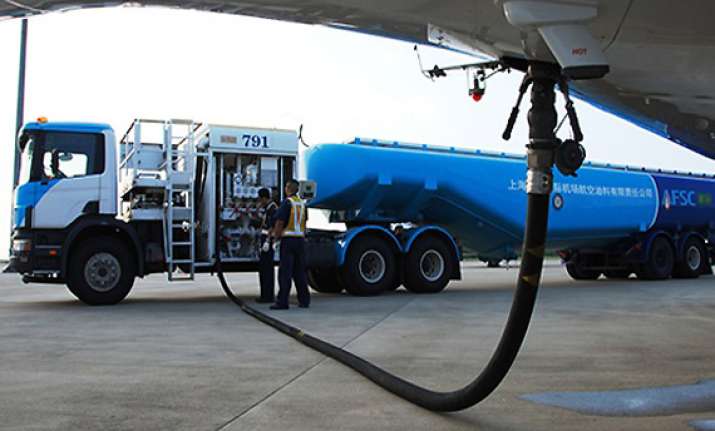 New Delhi, Feb 16: Government today moved forward to implement its decision to allow Indian carriers to directly import jet fuel, with the Civil Aviation Ministry writing to the Commerce Ministry to take the necessary steps. 

The decision was taken earlier this month at a meeting of a Group of Ministers on aviation, headed by Finance Minister Pranab Mukherjee, that the Commerce Ministry would permit direct import of Aviation Turbine Fuel (ATF) "by or on behalf of Indian carriers directly as the actual user and on actual use basis," officials said here.

The cash-strapped Indian carriers, particularly Kingfisher, have been demanding allowing of direct imports due to the high incidence of taxation on ATF by state governments which led its price to be 30 to 40 per cent higher in India than in countries like Singapore, Japan, and those in the Gulf and in Europe.

However, the officials said the Indian carriers would have to make their own tie-ups with the suppliers having infrastructure to import ATF directly for their use. 

The sourcing of ATF through direct imports would lower the overall procurement cost for the airlines as sales tax varying from four to 30 per cent in different states would be required to be paid only when local purchase was unavoidable, they said.

The decision would also bring down the cost of working capital to the airlines, as suppliers' credit on lower interest rates would become feasible, the officials said. 

The Civil Aviation Ministry had sent the letter to Commerce Ministry yesterday, they said. 

Most of the Indian airlines owe substantial amounts to oil companies on account of jet fuel.

Air India owes over Rs 4,170 crore to public sector oil companies in unpaid jet fuel bills, according to figures tabled in Parliament, while all other private carriers together have dues worth over Rs 2,000 crore.

Flight schedules of airlines like Air India and Kingfisher have been disrupted on several occasions in the past few months due to these oil firms stopping ATF supplies due to non-payment of dues.

Following frequent disruption to flights, Government recently asked the oil PSUs to extend the credit period to 90 days.

Since the days of Praful Patel, successive Civil Aviation Ministers, including incumbent Ajit Singh, have written to the Chief Ministers of all states to bring down the rate of sales tax on ATF in order to make ATF cheaper for the Indian carriers.

However, most of the states have not responded favourably, the officials said.

They said the revenue from sales tax on ATF contributes only 0.5 per cent to two per cent of the total sales tax collection of the states.

But for the airlines, it is almost 40 per cent of the total operational cost, imposing a heavy burden on the beleaguered companies.