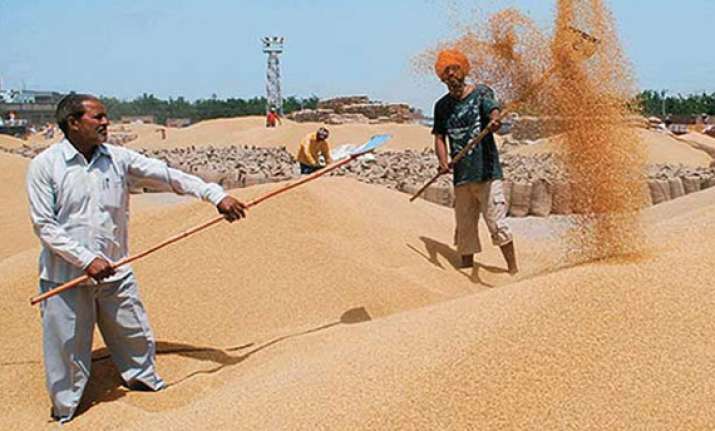 New Delhi, Dec 26: The government on Wednesday announced Rs 65 per quintal hike in wheat support price to farmers at Rs 1,350 after delay of almost two months and allowed an additional 2.5 million tonnes of wheat export from its godowns to ease storage crunch.
However, the increase in minimum support price (MSP) was lower than Agricultur Ministry's proposal for Rs 100 hike.
The hike in MSP will boost area under wheat, which is currently lagging behind, but could hit consumers with products like wheat flour, bread and biscuit getting costlier.
"The CCEA has decided wheat MSP at Rs 1350 per quintal for the 2013-14 marketing year, which is higher by Rs 65 than last year," Finance Minister P Chidambaram said.
On November 1, the CCEA had approved the MSP of rabi crops except wheat due to differences between Agriculture Ministry and the Commission for Agricultural Costs and Prices (CACP), which suggests farm pricing policy to the Centre. It had asked the CACP to relook into the wheat MSP.
Later, CACP stuck to its gun and said the wheat MSP should be freezed at last year's level of Rs 1,285 per quintal, though with a Rs 40 per quintal bonus to farmers during procurement.
Going against the CACP's view, the Agriculture Ministry took a fresh proposal to the CCEA for Rs 100 per quintal hike, which was lower than its November proposal of Rs 115 per quintal.
A highly placed source said the CCEA discussed the issue of wheat MSP at length and decided to take a middle path of raising the support price by Rs 65 per quintal.
Sources said the Finance Ministry was not in favour of Rs 100 per quintal hike saying it would fuel food inflation and food subsidy bill, making it difficult for the government to manage the fiscal deficit. The Food Ministry aired similar views.
On exports, Chidambaram said the CCEA approved export of additional 2.5 million tonnes of wheat from FCI stocks subject to floor price of USD 300 per tonne. The export would clear space for new crop, he added.