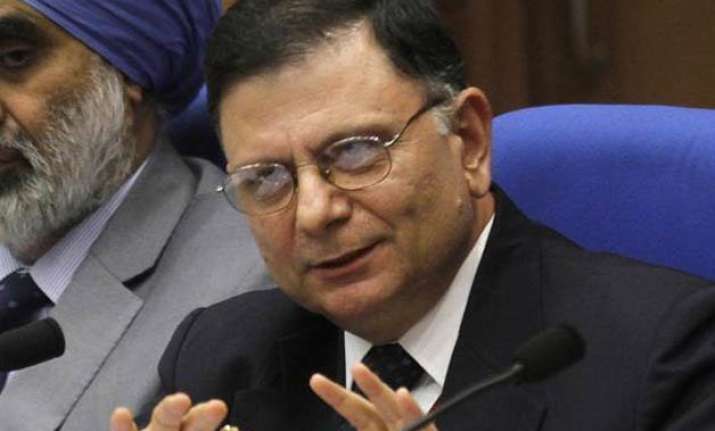 New Delhi: The government today admitted that the tax collection may fall short of target by 5-7 per cent, but expressed confidence that the economy will clock over 7.5 per cent growth this year without hurting the fiscal deficit road map.
Addressing a press conference on completion of first half of the current fiscal, Finance Secretary Ratan Watal said the government will continue with the reforms agenda to achieve the potential growth of 8 per cent plus over time.
"Our macro-fundamentals remain strong. We are now better placed to handle unforeseen external shocks and put India firmly on the path of economic recovery and inclusive prosperity," he said at a media interaction during which other secretaries and the Chief Economic Advisor were present.
The twin deficits - fiscal and current account - have been reduced, he said, adding that "the government is committed to achieving this year's fiscal deficit target as well as the fiscal glide path laid out in the Budget".
He further said the government is trying hard to sort out legacy issues of tax demands "raised retrospectively through mutually beneficial solutions".
One of the concerns is revenue collections, which according to Revenue Secretary Hasmukh Adhia will fall short of the budgetary target by 5-7 per cent, mainly because of subdued growth in direct taxes.
The total tax revenues are likely to be around Rs 14 lakh crore in the current fiscal, as against the Budget estimate of Rs 14.5 lakh crore.
On growth, Economic Affairs Secretary Shaktikanta Das said there are indications that it will exceed 7.5 per cent in the current financial year.
"Despite the global slowdown and declining export demand, India has emerged as the fastest growing major economy in the world," he said.
On discom debt recast, Watal said the government is working on it.
"We are working very closely with the Power Ministry and also the affected eight stressed states," he said, adding that a lot of progress has been made in the power sector over the last one-and-a-half years and mainly, the financial health of discoms has received the highest attention of the government.
To rein in demand for physical gold and contain its import, Das said the government will next month launch two gold schemes -- monetisation and sovereign bond.
He also said the government will soon decide the structure of the Monetary Policy Committee (MPC), which will fix the benchmark interest rate of RBI and set inflation targets, said Das.
Besides, he said the government will firm up its plan for setting up a non-statutory public debt management agency (PDMA) in the next fortnight.
With regard to small savings, Das said the interest of small savers, especially of senior citizens and girl child, will be kept in mind while reviewing the deposit rates for schemes in light of falling bank interest rates.
"The interest of small savers, the interest of senior citizens, interest of girl child scheme, all these aspects will be taken into account. The social security component of small savings schemes is very important and the government will keep that in mind," he said.
Observing that the revenue collection target for the current fiscal was 16.5 per cent as against 9.9 per cent in the previous fiscal, Adhia said, "In a way, the target looks to be ambitious, but the revenue position so far has been very very satisfactory."
Direct tax collection during April-September registered an increase of 12 per cent, he said.
On indirect taxes, the growth during April-August worked out to 36.5 per cent. It will be 12.2 per cent after excluding the additional revenue measures by the government during the year.
The growth of 36.5 per cent in indirect taxes is "quite satisfactory", Adhia said, adding that there is "likely to be some shortfall in direct taxes when we end the year, but some part of it will be made good by indirect taxes because of the additional resource mobilisation measures".
"I am very hopeful that if there are no other externalities, we should be able to achieve our target. Only the shortfall may be not more than 7 per cent... maybe, around 5 per cent shortfall may be there," he said.
On Swachh Bharat cess, Adhia said the Ministry has not yet decided on services where this 2 per cent cess will be levied. Resources generated from this cess will be utilised for financing and promoting initiatives towards Swachh Bharat.
Asked about impact of monsoon deficit on price situation, Das said there was enough buffer available and it is fully equipped to deal with any eventuality arising out of poor rains.
Emphasising that international environment is challenging, Chief Economic Advisor Arvind Subramanian said it is more challenging than expected in the beginning of the year.
It will take some toll on India's growth going forward, Subramanian said.
As far as reviewing growth number for the current fiscal is concerned, he said it will be done after more data are received.
"Whether it's going to be 8 per cent, 7.5 per cent or 7.8 per cent is a bit early for us to take a strong view... let the second quarter data come in and then we can get you a more precise assessment," he said.
On the Seventh Pay Commission, Watal said the Finance Ministry has already made a representation to the panel suggesting it to take into account fiscal concerns of the
government while giving its report on new pay scales.
The Commission, headed by Justice A K Mathur, has been given time up to December 2015, to submit its report which will have implications for nearly 48 lakh central government employees and 55 lakh pensioners.