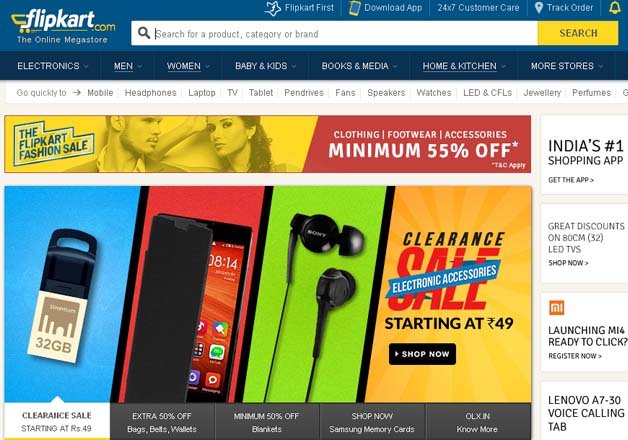 Mumbai: E-commerce giant Flipkart is looking to raise around $5 billion through an initial public offering (IPO) on the US bourses in the next 18 months, a report in the Economic Times stated.
To carry out the IPO, company's co-founders Sachin Bansal and Binny Bansal in Bangalore and its largest investor Tiger Global, are holding talks with big investment banks such as Morgan Stanley, Goldman Sachs, Citigroup, and Deutsche Bank, the report suggested. It could throw up $75-100 million in fees — the largest any domestic business would have paid the big banks — estimated at 1.5-2 per cent of the offer size, it said.
The deal, if it materialises, would be the largest listing by an Indian company, valuing Flipkart at between $25 billion and $35 billion, depending on the final amount raised, the newspaper said.
Though Flipkart has not officially signed on any banker for the listing process, it has stepped up work on the same.
Eight-year-old Flipkart, whose largest shareholder is New York-based private equity company Tiger Global Management LLC, has privately raised about $2.7 billion in multiple rounds of funding, as it moves to gain a larger pie of India's growing e-commerce market with intense competition from Amazon.com as well as local rivals such as Snapdeal.
Last month, Flipkart said it has closed a $700 million fresh financing round which saw new investors like Baillie Gifford, Greenoaks Capital, Steadview Capital, T Rowe Price Associates and Qatar Investment Authority. Its existing investors DST Global, GIC, ICONIQ Capital and Tiger Global, also participated in the latest fund-raising.
Along with the latest funding round, Flipkart Limited (incorporated at Singapore) has filed with ACRA Singapore for conversion to a Public Company. The company further clarified, "This is a mandatory procedure for all companies where the number of shareholders exceeds 50. This filing ensures we are in compliance with the laws of Singapore and is in no way indicative of any upcoming IPO or of any corporate activity that the company is engaged in either in Singapore or any other part of the world."
Flipkart and its rivals— Snapdeal and Amazon India—are filling their war chests, which will allow these companies to buy attractive start-ups, offer deeper discounts to buyers and increase their logistics reach.
At the moment, one of the fastest growing companies of the world, Flipkart has added more than 6000 employees in last 6 months and now is 20000 people strong. It now has 26 million registered users and delivery of 5 million shipments per month clocking over 8 million daily visits.
Flipkart is also considered by some analysts as the next big online retail business after China's Alibaba, which went public earlier this year and is now valued at more than $250 billion.