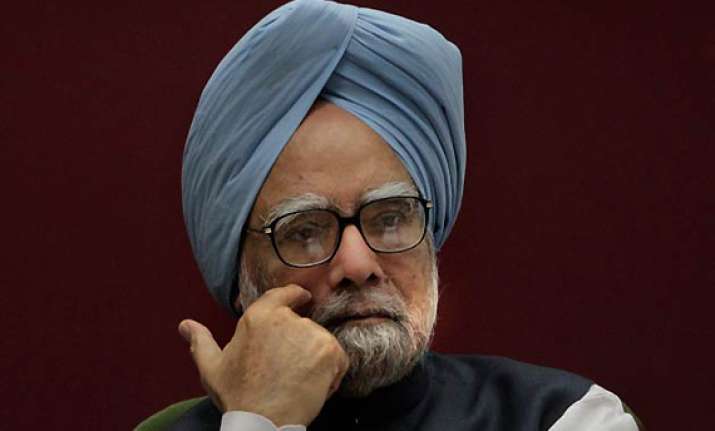 New Delhi, Feb 3: Amid grim global situation and high domestic interest rates, Prime Minister Manmohan Singh today said country's economic growth is likely to slow down to 7-7.5 per cent this fiscal from 8.4 per cent last year.  

"...growth in the current fiscal year is likely to be lower, between 7 and 7.5 per cent, in a large measure due to the continuing uncertainty in the global economic environment," he said at the Chief Secretaries conference here.

India's economy had expanded by 8.4 per cent in 2010-11 financial year.

"This (8.4 per cent growth) was a creditable performance when seen in the background of a crisis-ridden world economy. But, monetary tightening together with a difficult global economic environment, particularly the lingering Euro Zone crisis, has impacted the rate of growth adversely," Singh added.

While price situation is showing signs of moderation, the Prime Minister said the key to controlling inflation in food articles on a sustainable basis is by increasing agricultural production and productivity. "And it is here that the state governments have a crucial role to play," he said.

He asked states to give more attention to modern technology in agricultural research besides public investment in the sector and reforms in the farm marketing system and practices.

"There is a need to review and amend the Agriculture Produce Marketing Act to enable farmers to bring their products to retail outlets and also allow retailers to directly purchase from the farmers. This would bring better remuneration to farmers, check wastage and allow competitive prices to prevail in retail markets," Singh added.

Singh also called on the Chief Secretaries to "carefully consider" ways through which the States can take maximum advantage of the National Manufacturing Policy.

The policy aims at increasing the share of manufacturing sector in GDP to 25 per cent from the current 16 per cent within a decade and create 100 million jobs thereon.

Stressing the need on computerisation of the PDS, he said providing food security "can become a reality only if we reform our public distribution system, and reform it effectively and with speed".

"I would urge you to pay urgent attention to end to end computerisation of the PDS. We should be in a position to effectively implement the Food Security Bill by the time it is enacted as an Act of Parliament," he said. The Bill provides for an entitled quantity of food-grains to every poor household.

It also contains provisions for free food of appropriate nutritional standards to pregnant and lactating mothers and children up to the age of 14 years.

Singh further said infrastructure deficit was another vital area of concern and a critical constraint that limits India's growth processes.

"We need to find innovative ways to bridge the infrastructure deficit. While we have made some progress in the last few years, a lot more remains to be done," he said.

The Prime Minister asked the States to pay more attention on laying of roads, highways and irrigation facilities.

He also drew the attention of the Chief Secretaries towards the importance of skill development, saying the country would be needing about 26 crore skilled people by 2018.

"Our government has taken a number of steps for skill development which have met with modest success. We intend and we must to do more. I am also aware of the good work being done by some States in skill development. I would urge all States to show leadership in this vital area of national endeavour," he added.