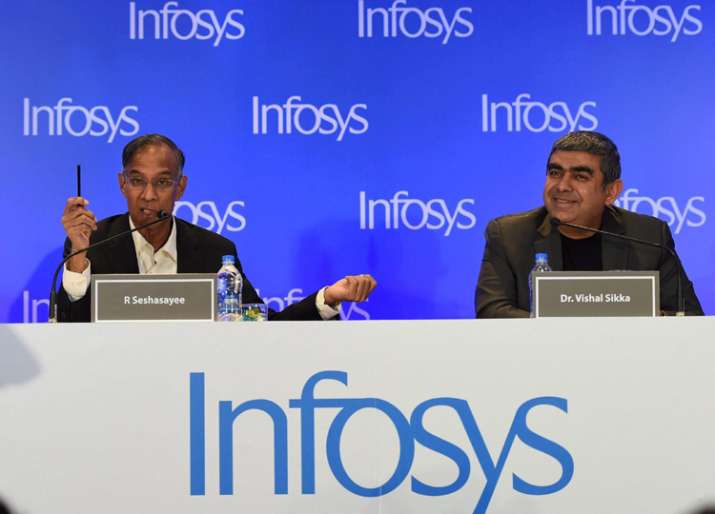 Infosys Chairman R. Seshasayee on Monday defended hefty compensation to Chief Executive Officer (CEO) Vishal Sikka saying the pay package was tied to very high levels of target achievements and was in line with the best global standards.
Responding to criticism by Infosys founders including NR Narayana Murty, Seshasayee said the astronomical severance pay given to Infosys' former Chief Financial Officer (CFO) Rajiv Bansal was a "judgement" error made by the company board due to a subjective element that guided the drawing up of severance packages.
"In determining the severance package of Bansal when he left the company in October 2015, there was a business judgement by the Board and this amount was agreed to be paid," Seshasayee told reporters here. 
More than a week after co-founders N R Narayana Murthy, Nandan Nilekani and Kris Gopalakrishnan flagged what they said were corporate governance issues, Seshasayee and other board members, including Chief Executive Vishal Sikka, addressed an hour-long press conference to clear the air. 
"In retrospect, I have no hesitation in saying that this compensation would have been different, had the judgement, made in the circumstances, been different. We had some subjectivity in making this judgement," he said. 
"It would serve everyone concerned much better, if that subjectivity element is taken away from severance packages," the chairman added describing in euphemism what was clearly a major error in business judgement.
In fact, Seshasayee said that on the review of severance packages globally conducted with the help of a consultant, Infosys has removed this "subjective element" from the severance package contracts being applied since 2016.
"Business judgements can be wrong, perceptions can be different," he said in defence of the decision to do away with the earlier practice that has led to the controversy over Bansal's compensation package.
Seshasayee also told reporters that though a sum of Rs 17.30 crore, or equivalent to 24 months' salary was agreed to be paid to Bansal on his departure, he has "actually been paid Rs 5 crore something because the payment was suspended in April 2016". 
In this connection, Infosys founder-chairman N.R. Narayana Murthy said last week that the company had previously never paid such high compensation to any other executive in possession of "highly competitive (corporate) information".
"Certain acts of the board's corporate governance could have been better. Several people on the Board had highly competitive information. A former chairman said at the AGM that he had highly competitive information," Narayana Murthy told the CNN-News 18 channel in an interview.
On Murthy's contention that Infosys had made severance pay to former CFO Rajiv Bansal and general counsel David Kennedy as "hush money" to keep them from revealing Infosys secrets, the chairman said such a "suspicion" is "deeply disturbing". 
"He (Bansal) is a brilliant colleague. There were team chemistry issues with Rajiv and his exit was mutually agreed upon... He conducted his job with integrity," Sikka said.
He also addressed the questions raised about the appointments of independent directors, including Punita Kumar Sinha, and said "We are very proud to have Punita Sinha on our board, a woman should not be judged based on the profession of her spouse," he said. 
Sinha is Minister of state for civil aviation Jayant Sinha's wife.
Seshasayee defended Sikka's pay package, which has been increased to USD 11 million from USD 7.08 million, saying the compensation is tied to achievement of very high levels of target. 
Justifying the hefty compensation of Sikka, Seshasayee said that while the compensation was raised to USD 11 million, the fixed component was down to USD 4 million from USD 5.08 million earlier. 
"Shareholders and board have asked me to do a job. As long as they don't ask me... I will do my job," he said, adding that the Infosys management was "professionally run". 
He was responding to a question on some of the former executives asking him to step down and suggestion that an interim chairman should look into concerns raised by co-founders. 
On appointment of Cyril Amarchand Mangaldas, he said the law firm was not brought in to mediate, but to give a road map on governance.
 
On being asked if he would step down from his position as suggested by Murthy, Seshasayee said he has been elected by Infosys shareholders and the board to do a job and that he will continue to do it.
Seshasayee argued that Sikka's pay revision was decided through a postal ballot with approval through an overwhelming majority. 
Quipping that Infosys does not have a corporate jet, Seshasayee sought to put to rest arguments that Sikka had billed the company for travelling with family. 
"Only 8 per cent of Vishal Sikka's travel in last few months was on chartered jets," he added. 
Seshasayee urged the stakeholders to let the company focus on its operations, saying: "Because we live in a glass house, so please don't stare at us for too long, let us get on with our business." 
Earlier in the day, Sikka had said the "drama" going on in the media is "very distracting" even as Murthy -- Infosys' longest-serving chairman -- insisted that concerns over corporate governance need to be addressed "properly". 
Sikka said he has always shared a "heart-felt, warm relationship" with Murthy. 
Murthy, along with other co-founders, holds some 13 per cent interest in Infosys. 
Some of the founders had aired concerns about Sikka's USD 11 million pay and expensive severance packages for former executives Bansal and Kennedy and flagged governance issues. 
Infosys, on its part, has denied any governance lapses and said it has made "full disclosures" on all developments. 
On the issue of Infosys' huge cash pile of USD 5.25 billion, the company maintained that all capital allocation policies are reviewed periodically and all options will be evaluated.